WetPussyGames review
back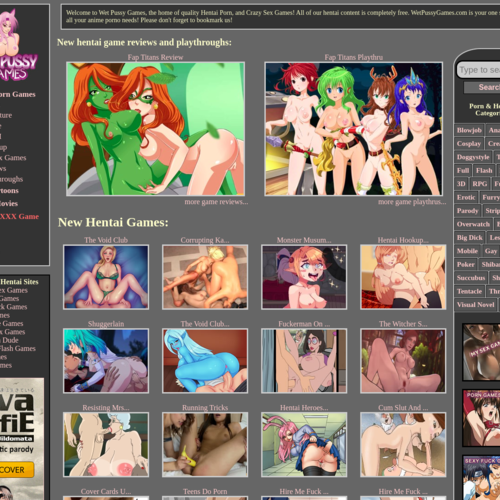 WetPussyGames
Personally, I have always struggled to see the appeal in porn games. Call me a porno purist, but I prefer my porn to be porn. That is to say, I prefer my porn to be of real people fucking on camera. I have never been one for watching animated or 3D CGI chicks getting "fucked" by animated or 3D CGI dicks. This is the same reason I never got into hentai … it's too far from the real thing for my tastes.
Not surprisingly, porn games and hentai often seem to go hand in hand. To the point where most porn gaming sites also offer hentai or manga porn. It also seems to be the case that the majority of porn games are heavily influenced by hentai in the style of animation and gameplay. It is definitely not for me, but a lot of you basement-dwelling porn addicts out there seem to be into it, so I suppose it's at least worth taking a look at from time to time.
As is the case with both porn sites and video games respectively, not all porn gaming sites are created equal. The bar is, mind you, set incredibly high thanks to sites like the aforementioned Nutaku and 3DxChat, both of which offer extremely high-quality gameplay, as well as awesome in-game porn.
Both of these porn game clients have come close to converting me to a porn gamer (which is very high praise given the fact that I generally just do not enjoy gaming). So, in order for me to give another porn gaming site a high rating, it is going to have to have a similarly profound effect on me.