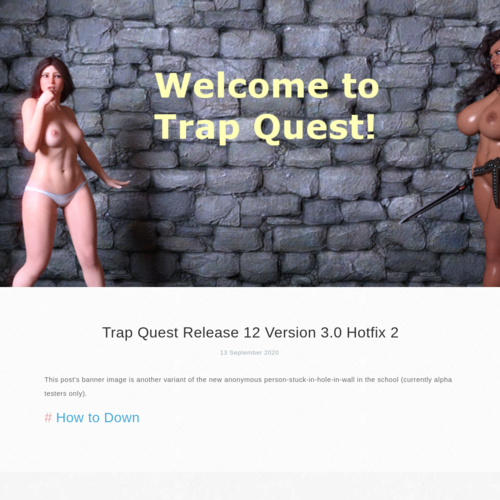 Trap Quest
TrapQuest is going to be a breath of fresh air for you, without a doubt!
However, this game is meant for some over the top perverts. If you are a person who is into some vanilla pornography and stuff like that, then you surely won't have any fun with TrapQuest. Maybe you will, though, but I doubt that such fetishes are going to be your thing right away. It sure took me a while to get accustomed to, seeing as forced feminization and hardcore sexual punishment isn't something I usually go for when I watch porn. Is the name of the game starting to make some sense now? Well, it should. Basically, what happens as you play through the game is just straight-up sexual degradation of your character until he is completely feminized, but this feminization happens in some very, very weird ways.
For starters, not only will your character get wider hips as he plays through the game, but he will also grow breasts at some point, and your character might also become pregnant after a while, which might be the act that crosses the line for the majority of you. Don't expect TrapQuest to be a game that is very easy to play, seeing as you are pretty much meant to lose in this game as much as possible for your character to become as feminized as possible, but this does not mean that you are supposed to give up or something like that. It's no fun if you just crawl through all the places in the game. You are supposed to put up a fight!