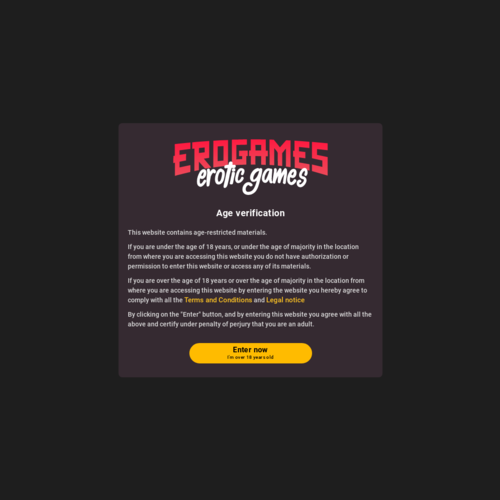 Erogames
Eroges is a platform much like Nutaku, where the company brings in different games onto the site where people can buy the games. Eroges offers a handful of indie hentai games as well as translated visual novels. Purchasing games require you to buy the site currency known as Erogold. Why can't you just buy directly with dollars? Cause fuck you that's why. So make sure you pull out your wallet before you pull out your cock and get to spending. One cool thing about Eroges is that it supports French language games. Actually, I think Eroges is targeted more towards French audiences than English, as the site offers more games in French that aren't even available in English.
Eroges.com is all about adult games and only adult games, so the layout is pretty straightforward. When you first enter the site, you'll see a list of all the games offered, which frankly, only number about ten when I checked. Since the collection is limited, this simple layout works pretty well. There's no need for search functions or categorizations like most porn sites since there are such few games. It won't take you long to check out every single game and see if there's one you want to purchase. At the top left corner, you'll see a flag. This is your language select. Right now, the site only supports English and French. When you click on a game, you'll be sent to the game's main page.
This includes a big splash page showing a description, screenshots, and information to get you to play. Games will also have a video trailer so you can get a feel for what the game is like. You'll need to register to actually play the game. For the free games, you just need to register, but for the paid games you'll need to load up on Erogold coins to make a purchase. At the bottom of the game's page, you'll get recommendations for other games. This is cool and all, but with only a dozen or so games on the site, I'd say their recommendations are pretty limited and pointless. Just check them all out before you spend your hard-earned cash.