Pornhub Casino review
back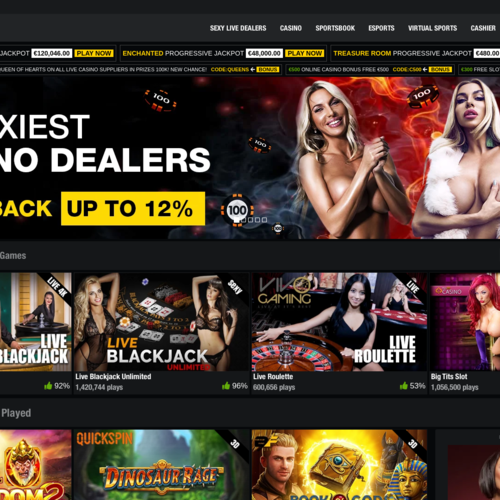 Pornhub Casino
Online casinos are nothing new, but PlayHub Casino (previously known as PornHubCasino or PH Casino) is. The site got off the ground in mid-2018, differentiating themselves from the competition with their claim of having the world's sexiest live dealers. A gambling website with tits? That sounds like it'd be right up my alley.
The pre-login screen has all the flash of a casino, plus a lot of T&A. Scrolling banner ads offer Sexy Live Baccarat, Sexy Live Blackjack, and Sexy Live Casino Hold 'Em. I'm sensing a theme. Jackpots roll like a stock ticker at the top of the screen. Apparently, a game called The Slotfather has a $48k "Progressive Jackpot".
Scrolling down the page, I see more ads for games. These ones even show a preview if I hover my mouse over the image. Looks like they're not joking about the sexy live dealers for blackjack. The chick pulling her top down has such succulent tits, I wonder how many players she's going to distract from the game.
Porn-themed digital slot machines are big items on the menu, too. From the front page, I can see cheerleader slots, pirate slut slots, and big tit slots. PlayHubCasino displays options to PLAY FOR FUN or PLAY FOR REAL, so it looks like they have some toys to play with even if you don't want to risk actual money.