Summertime Saga review
back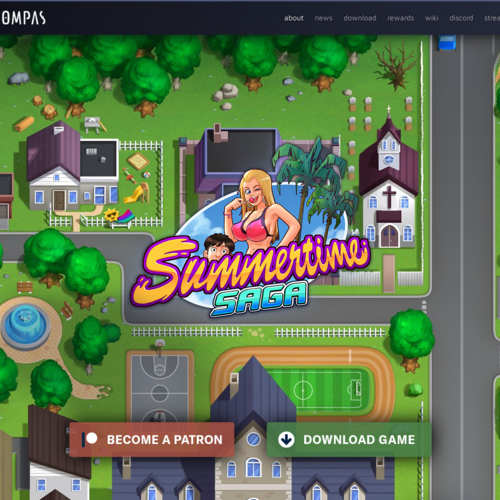 Summertime Saga
Summertimesaga.com is an adult dating sim that is still in development. It's in Alpha currently, and the game is funded completely through Patreon. It's being made by a user named DarkCookie. The game boasts a whole shit ton of kinky fetishes, animated sex scenes, plenty of mini-games, and an in-depth story. The main site brings in over 3 million views every month, and it looks like the game has been in development since 2017, but that could be a little off. It probably started out before then. That's simply when the site officially launched.
If you end up liking the game, then I highly recommend at least giving the Patreon a peek. By the looks of it, there is a lot of fucking content coming. You can also view a list of progress bars here that tell you how close to done certain aspects of the game are. As of writing this review, the game as a whole is around 55 percent finished. If you donate you get special access to in-game content, as well as the potential for other cool shit for when the full game launches.
You can download the game on just about any device. Sadly, iPhones don't support these kinds of apps. Lame. But you can play this game on Windows, Linux, Android, or Mac with no issue. Just head to the site and use any of the links on the download page to get started. The site here also has options for joining a community discord, reading about in-game rewards, browsing the game's wiki page, and watching others stream their playthroughs of the game. A really well put together site with plenty of ways to interact with others in the community.