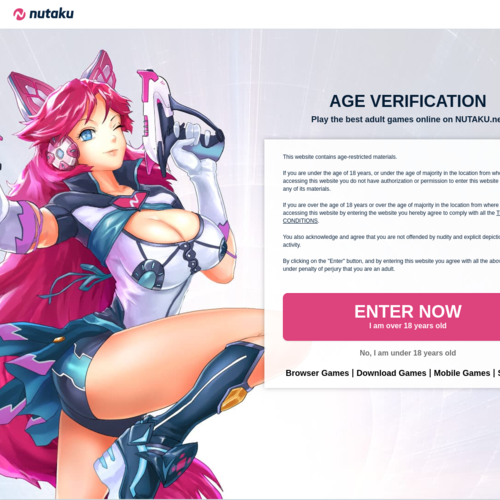 Nutaku
Tons of porn games from all niches
If we are talking about the best porn games, first of all, I should speak about Nutaku. This is a wonderful site that has tons of exciting video games for fans of pornography. I am now a big fan of porn games because there is always not enough balance between the gaming and porn elements. Developers usually make a good game with not many porn parts. It's disappointing. Anyway, there are some games that are really great and deserve the attention of gamers and porn fans. If you are looking for the top-class porn games, better hurry up to get an account on Nutaku. You will get a wonderful chance to combine two favorite ways of spending time. Play and get horny at once, when can be better?
I'm wondering why so many porn games are from the hentai niche. Seriously, why so many strategy games, clockers, and RPGs are made in the style of hentai? If you are not a big fan of Japanese porn cartoons, you'd be disappointed for sure. I don't like to fap watching unreal girls. Maybe, you have another opinion. Besides, I can tell you that a bunch of online and PC hentai-based games is shared on Nutaku. Hundreds of cool video games will bring you a lot of new emotions, experience, and satisfaction. I don't know how to play a game when your hand is busy with your dick. Maybe, you should develop some special skills for that. I'm just kidding.
Nutaku is the best platform for online hentai porn games on the web. The company is based in Canada and the team of Nutaku is doing a great job. There are so many exciting porn games that can be played right on your browser. Others are available for mobile gaming. Also, you can download some games on your computer. Everyone chooses the most appropriate way to play. Some of the games are completely free. Others offer you some features for microtransactions. Some games you should buy. 100 million visitors each month make Nutaku the most visited porn game online platform. Game developers are able to share their demos on this site. There are so many genres: dating simulators, action-adventure, massively multiplayer games, strategies, defend-the-tower games, point and click, collectible card games, visual and kinetic novels, turn-based strategy, and virtual reality games. It's an impressive list, isn't it?
The design of the site is pretty simple. It looks like an old-school online game platform. On the top of the site, we can see the logo and a little menu that includes "Games", "Game Events", and "Support". Below we can find thumbnails that represent games. Scroll down to discover an endless list of available porn games. All games are well organized by categories "Top Ranking Free Nutaku Hentai Games," "Top Ranking Mobile Porn Games," "Top Ranking Downloadable Porn Games," "Nutaku Exclusive Porn Games," "Free Online Hentai Games," "Newest Porn Games," "Nutaku's Staff Picks," and "Upcoming Games." AT the right hand you can find the section of "Current Game Events". This part of the site includes tournaments and challenges of each game. You can change the background color of the site and it's a nice feature. Also, there is a link to Nutaku's VR games. When you click on "Browse", you get to the searching page that includes a lot of useful filters. You can filter all the games by genre, tag, developer, publisher, and language. You can switch between browser, mobile, and downloadable games. The searching results can be sorted by rank, date of upload, price, and alphabetically.
I'm not a gamer but I can tell you that the quality of the porn games on this site is amazing. I have tried just a few of them to make sure that they are wonderful. Everything works perfectly and there are no lags or bugs. The variety of niches means that any gamer and fapper will be satisfied. I don't want to name any games because you better discover the world of porn gaming by yourself. This impressive site will help you kill a lot of time. There is nothing better than playing porn games after a hard day of work.
There are no ads on Nutaku and it makes me happy. They don't have any annoying element on their website. Probably, they have giant servers to host millions of people and share thousands of online and offline porn games. Anyway, they don't have ads on their beautiful site. I'm really impressed with the giant collection of porn games from various genres and niches. The archive is permanently updated. The freshest XXX games appear on Nutaku but not somewhere else. Get ready for gaming without any bugs, lags or glitches. Great design and mobile-friendly version make the site absolutely perfect.