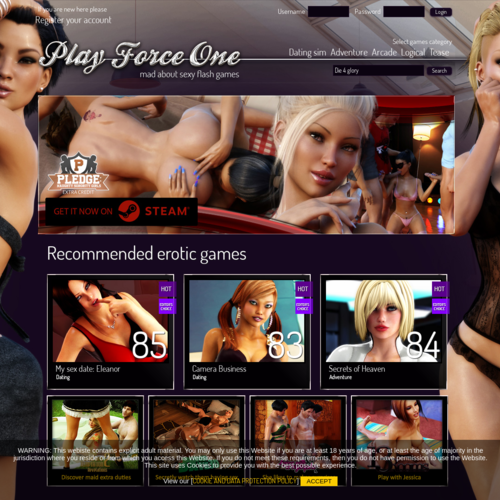 PlayForceOne
The main page has a lot to take in. There's this hot blonde dimepiece in a latex looking dress that shows off her amazing tits. Off behind that, there's this dark backdrop of some city. I like it when sites do shit like that. I'm tired of staring at plain old one-color backgrounds. Give me some sexy bitches to gawk at while I browse! There's a big ass banner up top with some smaller boxes right below it that advertise popular sex games on other sites. Don't be fooled. They may look like previews for games but they definitely aren't. Scroll down to "Latest Erotic Games" to get actual previews.
Before we get into all of that shit, there's something I've got to cover first. This site is one big game in of itself. Make a free account to join "Play Force One" and get a guided tutorial from that blonde slut whose name is Kelly that I mentioned earlier on how to use the site. Basically, you earn experience by playing new games, making quality comments on game pages, and logging in every day. You visit Kelly to get specific quests, which could be a bunch of different things like playing certain types of games, completely certain objectives, and shit like that.
It can be easy to miss since the text here kind of blends in with the background sometimes, but there's a shortlist of categories up in the top right of the page for "Dating Sim, Adventure, Arcade, Logical, and Tease." The arcade games are probably what you think of when someone brings up flash games. Quick games with a minimal story where you fuck some bitches brains out until you cum. They're simple, but man. I get such a literal nostalgia boner playing these games. I would bust nuts to flash games all the fucking time back when they first became popular.