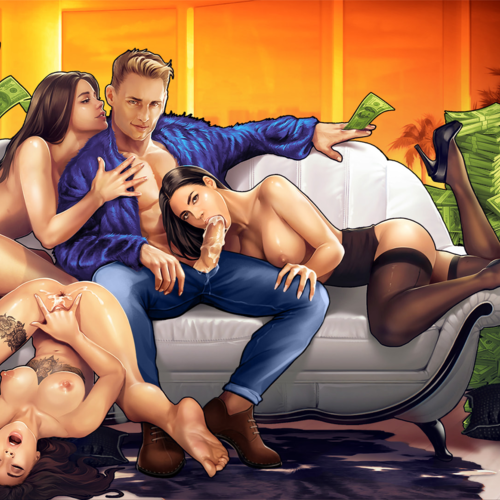 Cunt Empire
CuntEmpire.com is a business management simulator where you manage resources to build a massive porn empire. If you think of yourself as a very stable genius with a strong business sense, this will give you a little challenge while also giving you something to jack off to. The game launched in late 2019, and currently has over 1,000 players a day. Let's see what they're getting into.
The loading screen for CuntEmpire features some suave-looking motherfucker lounging on the couch with a couple of stacks of money and a few hot bitches giving him a lot of attention. One's flipped upside down, legs over her head as she fingers herself deep. Another caresses him and whispers sweet nothings in his ear with a pink dildo stuffed up her twat. The third is sucking on his raging hard cock, making fuck-me eyes at the viewer. The art is fucking crisp and sexy, so I'm hard by the time the LET'S GO button loads. Yes, let's go!
I knew this was going to be a polished game from the loading screen, but I didn't realize CuntEmpire stars legit big-name pornstars. Instead of random hentai schoolgirls, a digital version of Little Caprice is delivering the opening line of dialog.
BEST PORN GAMES like Cunt Empire