Play Sex Games review
back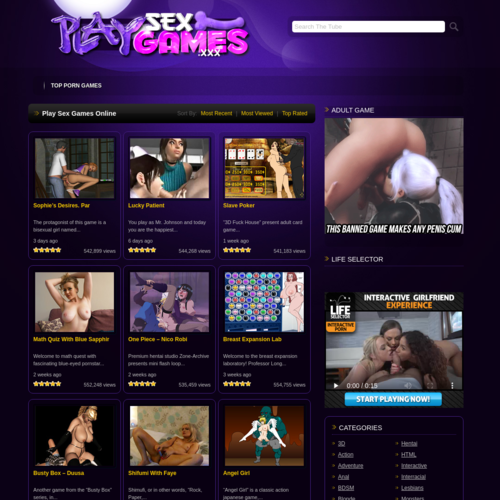 Play Sex Games
That being said, this would be an incredibly hard task seeing as how you have almost 600 games to go through. With a porn game repository that big, you're going to be wondering how the hell you're going to manage to play even half of that. Well, maybe you'll have to quit your job and say goodbye to your family for a few years, but it'll be well worth it. In fact, I guarantee that you're going to get hooked from the minute that you set foot (well maybe not a foot, but finger for sure) on PlaySexGames.xxx.
You're going to be stunned by some of the beautiful games that they've got going here. But, you know how it is. Whenever there are good games, there have to be some shitty ones to ruin the bunch. Just make sure that you pick the top rated games and you won't have a problem with any of the shitty ones. Honestly, even the shitty ones took time to make so I'd give them a shot too, but they just can't compare to the featured titles that you'll find on the home screen or when you sort the games according to their rating.
That said, you can sort the games not only according to their rating on PlaySexGames.xxx. You can also sort them according to how recently they were uploaded to the website, as well as how many views they've got. One annoying thing is that whenever you click on one of these sorting mechanisms, you're going to make PlaySexGames.xxx open that in a new tab. This seems extremely nonsensical to me. Why wouldn't you just open it up in the same tab without having to click on the new tab that's being opened or waste time on closing the previous tab? It just seems weird that they did this.