Adult Sex Games review
back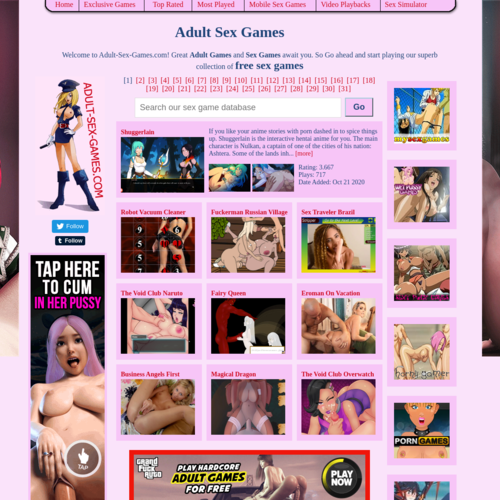 Adult Sex Games
The first time I found myself on Adult-Sex-Games.com, I was left with zero doubts in mind that this is a wonderful source of porn games. The homepage actually gives you more than a hint and the content here is absolutely fantastic. I want to briefly mention that there are great themes here and if you enjoy rendered sex scenes, you will find some diverse and high-quality content stacked up in this bitch.
Here are a few warnings to consider while you are on this site. You won't be able to last more than two minutes here. There is no way you will make it past that mark unless your dick is made of steel — no fucking kidding. If you are the kind of guy that cums super-fast, you'd want to think twice about hanging around this site. Fuck it, there are so many things going on at Adult Sex Games' homepage, and there was so much going on before I even got to the main course yet.
Before I tell you what kind of games Adult Sex Games has lined up, there is the small matter of site design and navigation which differentiates the best from the mediocre. I wouldn't fault the site in terms of design. The content is well arranged, and everything is simple. However, if you don't like the pink color, am sorry to be the bearer of bad news but you will be seeing it a whole damn lot. I have a problem with the huge banner advertising some random porn games. It is distracting, and that's saying it nicely.