Big Bang Empire review
back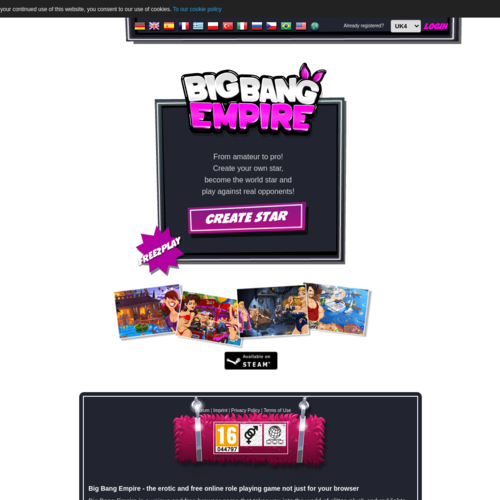 Big Bang Empire
Big Bang Empire is an in-browser flash game that lets you create and develop an up and coming pornstar. You can find the game over at bigbangempire.com. But you've probably heard of this site one way or another. There aren't many porn sites you can go to without seeing their banner ads everywhere. Talk about hitting the right market! Anyway, these guys have been around for just about 5 years and they bring in a solid 1.5 million visitors every month with quite a large spike over the past couple months. Whatever you're doing keep it up!
When you first head over to bigbangempire.com you will have to set up an account in order to play. Nothing too difficult really. It's free and you just need to type in an email and password. After that, you're in. And my first impressions were that this looks, well, okay, I guess. Let me explain. It's a flash game, so it has that flash look. You know the look I'm talking about. The art is limited by what flash can do here, so I can't really recommend it for sitting down and fapping to, but let's talk about it in the terms of a neat flash game.
Once you make your account, you can create your pornstar. They can be male or female depending on the fantasy you want to explore. The dudes kind of look like Johnny Bravo. Picture a buff jock named Chad and you've probably got the right image in your head. The babe model is a 10/10 skinny chick with decent tits. Here you can give them a name, change some of their features, and then get started.
Unfortunately, you can't change the shit that matters. Can't give you pornstar bigger/smaller tits, change their body type, give them a nice ass, or anything like that. You get to mess with their hair, tattoos, mouth, nose, and clothes. That's it.
Once you have created the slut of your dreams, you can get started playing the game. Your goal is to make it out of your shitty town and make it to the big city to become an even better pornstar. To achieve this, you have to complete missions to earn diamonds, cash, and experience. Missions are pretty straightforward. You click on them and it tells you what you will earn as well as how long the mission will take in real-time.