Red Light Center review
back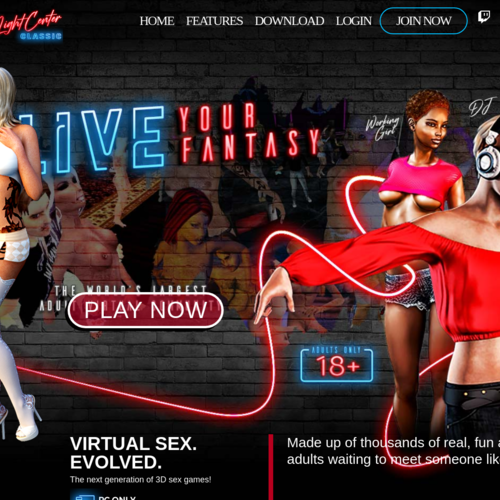 Red Light Center
This is the evolution of those boring old sex chats. Those required a lot of multitasking on your end, demanding you fap, type, and imagine all the action. RedLightCenter makes the interfacing a bit easier and gives you some nice visuals in the form of a virtual sex wonderland.
The landing page of Red Light Center has "LIVE YOUR FANTASY" in big letters on the marquee. A couple of tatted-up CG sluts grace the screen, tits out. One's got pierced nipples. I guess this is the level of realism we should expect from the game. Not bad.
A few social media icons peek out from above the text. Their Twitter page has 3,500 followers, and nearly 11k on Facebook. Those are just the pervs who are open about their masturbatory habits with everyone they know. The actual number of users has to be way higher.
A link to RedLightCenter's PornHub page features a bunch of videos of in-game sex. They've got over a million views, so it's hot enough for people to whack off to. The interracial cuckold creampies and MILFs gagging on cum can only be better if you're playing it live, right?
RedLightCenter boasts that they're "the world's largest Adult Virtual Community made up of thousands of real, fun and open people waiting to meet someone like you!" The offer was intriguing enough for me to click Play Now.
Before they even try to get me to sign up, RedLightCenter has me choose a virtual avatar. I have a selection of handsome studs or hot chicks to pick from. A little note says I can change my appearance later in the game, or shop for a whole new look. Good news, because I need a more handsome, studlier avatar, to match the real deal.