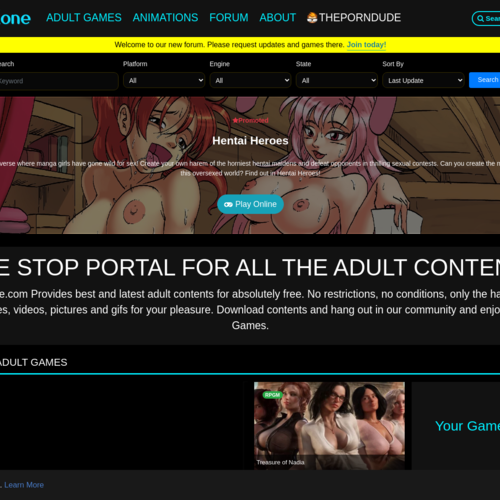 LewdZone
LewdZone.com bills itself as a one-stop portal for all kinds of adult content, from porno video games to sex comics, NSFW animations and even a blog that will be of interest to all you porn-addicted nerds. All you no-fap geeks can just go fuck off right now. The nearly 1 million monthly visitors to LewdZone are in it for the free orgasms.
LewdZone is aiming high, with an intent to serve up all kinds of adult material to all you Internet perverts with a mouse in one hand and your turgid cock in the other. They're still a relatively new site, though, and they've got some growing to do. Right now, most of the content on the front page is free adult video games.
If you're new to the world of porn games, you might want to put some time aside to explore the site. The diversity of filthy games available is apparent as soon as you hit the landing page here. Right away, you're faced with hot CGI bitches with seductive pouts, cartoon broads with enormous titties, and even some cute little pixel-based sprites that will appeal to anyone who ever jerked off while playing their old Game Boy.
The titled thumbnails don't give away too much about the gameplay, but you can guess about the various kinky ways these storylines play out. Lust Epidemic features a young man surrounded by a bunch of big-busted MILFy bitches, including what looks to be a really horny nun. Ways of Life features a similarly annoyed young dude surrounded by hot chicks in a pool setting, while the girls of Harem Hotel seem like some down-to-earth broads who would like to suck your cock for a while.