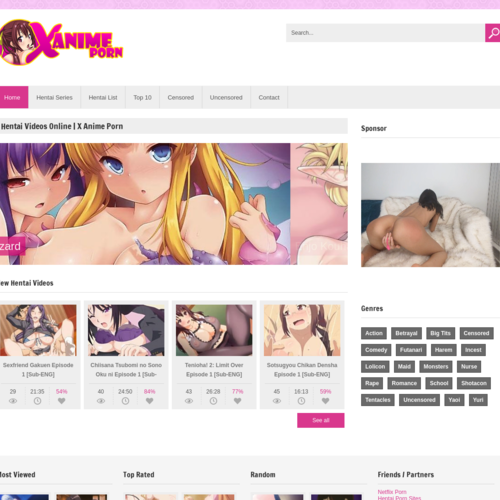 XAnimePorn
XAnimePorn.com tries its best to make it easy for you to find good shit, which can be hard when many of the titles have names such as "Houkago no Yuutousei" and "Dokidoki Little Ooya-san". To help you with all this moonspeak, each title has lots of tags, preview pictures, and even an English summary to guide your fapping.
There's also a great rating system. With hundreds of thousands of views, many of these cartoons have tons of votes so you can figure out which are trash and which are cash. Since most of these hentais are original, you'll need an adventurous spirit watching these bitches.
Xanimeporn has a simple layout since it purely focuses on hentai videos. The front page shows a gallery of the newest videos, with screenshot, length, rating, and views. Below that shows three other major galleries that include Most Viewed, Top Rated, and Random.
You'll also find a list of "Genres" to search by, although this is really just tags/keywords. If you want to search for something specific, I recommend just using the search bar at the top.
When you click on a series, you'll see the overall rating and technical information which include the number of episodes, the year it was released, the genres, and whether it is censored or not. I like to stick to porn released in the past two years because the quality is a lot better.
You also get a description, which includes awesome summaries such as "he couldn't control himself, his body moved and he raped her…" Just epic stuff all around. Finally, below that are the links for you to watch the various episodes.