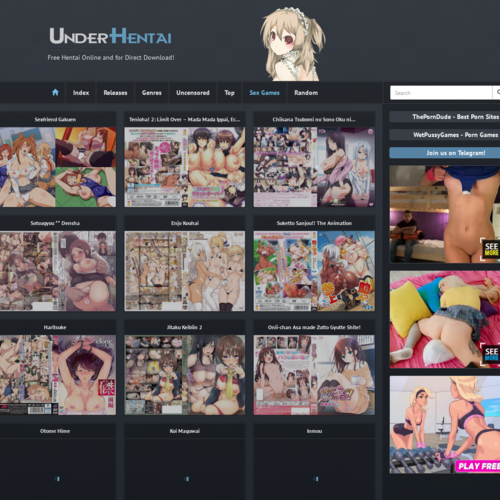 UnderHentai
UnderHentai.net has a really simple website, making navigation a breeze. On the other hand, the site may be too bare bones for some people, since all there is are videos with no pictures, community forum, or anything else. Videos and ads are all you'll see at UnderHentai.
When you first enter, you'll be greeted by a video gallery on the left, and some ads on the right. Unless you're a hardcore hentai lover, you probably won't recognize any of the titles or series. I know I didn't. Most of them are Japanese titles aka moonspeak, so just focus on the titties.
One thing you will notice is that the videos are professional releases. The quality of the art and the design of the boxes makes it obvious that this shit is being sold in stores over at Japan. The thumbnails may seem kind of small, so you may want to zoom in to really see the art as you browse.
Along the top of the page, you'll see the major categories, which include new releases, genres, an uncensored gallery, the top videos, and random videos. If you want the cream de la crème, then head straight to the "Top" category, although you might just want to go to the uncensored gallery if you don't want any bullshit.
When you find something you like, click on it and you'll get sent to the video's page. You'll get the basics like the title, the box art, the studio, what genres it belongs to, and a chance to vote on its rating.
Below is the important shit, which are the download links. You'll get a list of each episode, how many megabytes the video is, whether there are subtitles or not, and whether it's censored or not.
Speaking of censorship, those goddamn zipperheads made it illegal to show uncensored twats over at Japan. So a lot of this shit is censored. I can't believe that those Orientals still deal with the pixelated crap, damn commies…