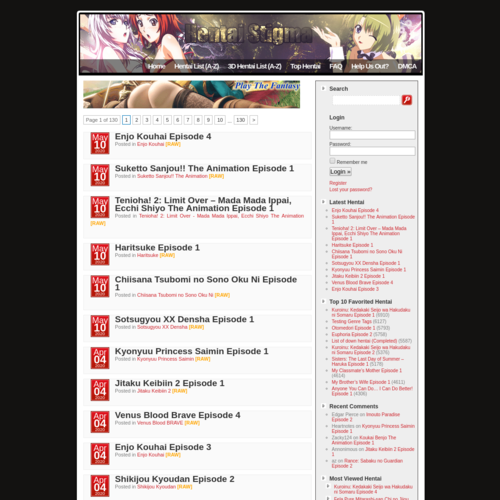 HentaiStigma
HentaiStigma also works really well and is regularly updated. I didn't find any broken links, and the site uses a special video player that doesn't use Flash (although a Flash player is supported also). HentaiStigma has very recent video releases from Japan, and also provides preview posts showcasing all the upcoming videos next month.
But HentaiStigma (hentai.animestigma.com) won't be great for most of you. First, there is only Japanese raw and subbed videos. That means no dubs and a shitload of pixels.
I can't imagine why anyone who doesn't understand English would seek the raws out, except maybe because raws are the latest content. There's only so much gibberish one can take between sex scenes in my opinion, and the only sound I want to hear from a Japanese cunt is moaning and/or crying from getting fucked the fuck out.
HentaiStigma's videos are also really low quality. You won't get anything above 480p, and the site admin admits that providing HQ videos will fuck the site up and make it too expensive. Just imagine you're watching the porn without glasses on to feel better about the low quality.
One of the most head-scratching parts of HentaiStigma is that it gives you no fucking information on the episodes. Even the video player thumbnail is just a big ass splash page for HentaiStigma, so you get zero previews whatsoever. No summary, no background information, nothing other than the episode name.
One unique feature of HentaiStigma is its collection of 3D hentai videos. These are full-fledged CGI hentai videos of computer-generated bitches getting sucked and fucked. All the 3D videos are separately categorized making it easy to browse, and videos like Little Ballerina and Stepfather are more than fap-worthy.
You won't easily find these videos on other sites, making HentaiStigma a solid place to find and watch these videos pain-free. If only the site supported HQ quality…I'd be cumming all kinds of buckets.
Frankly, this place feels more a site where someone wants to share his videos with friends than an actual porn site. There are no comments, no ads, and basically no real effort to get visitors. Think of it as just a stash of the latest hentai anime videos from Japan that almost nobody has ever heard of, almost like a Google Drive of hentai porn.