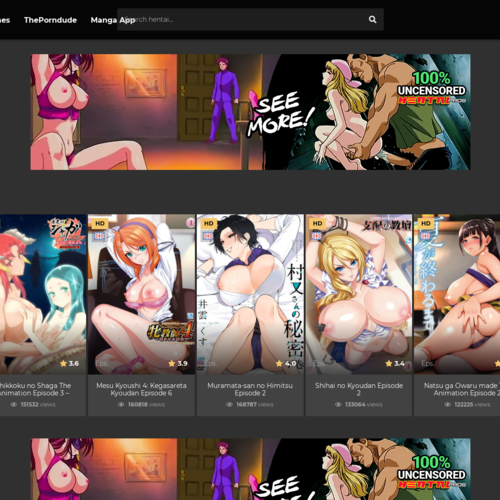 Hentai.tv
Hentai.TV is a relatively new site. The domain is only a couple of years old, and they didn't pop up on my own radar until even more recently. Nerds always talk amongst themselves, probably on Reddit or some other site that doesn't have women, so Hentai TV is already getting a couple of hundred visitors per day. It's obviously kinky, freaky and dirty enough to catch somebody's attention. Let's see what it does for your old friend The Porn Dude.
Kinkier Cartoons Than Adult Swim Ever Has
I have to give Hentai TV props for their logo. It's basically just a ripoff of the Pornhub logo, only the TV/Hub part has horns. It's simple but effective; you know you're going to get porn because they ripped off the big boys, but you also know it's going to be some freaky hentai shit because hentai just ain't that vanilla. It's got horns!
The thumbnails here are all manga, doujin, and HD porno anime videos. Let me tell you, the images I see make a pretty convincing case for kinky anime porn. Sure, it's cartoons and not live, flesh and blood women, but this is definitely not the Saturday morning shit you let the kids watch while you're hungover and trying to figure out if that Tinder girl gave you an STD last night.