Hentai Stream review
back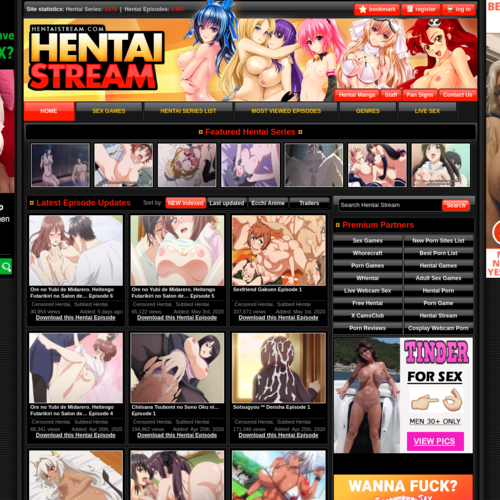 Hentai Stream
HentaiStream.com is a slick-looking hentai site. The glossy logo and header image of oiled-up naked broads with huge, perfect tits brings to mind a premium porn site. Swap the cartoon chicks out for flesh-and-blood pornstars and that's the header of a site that would charge thirty bucks a month.
At the very, very top of the screen are some impressive site statistics. They currently host 2,700 hentai episodes, from 1,093 series. Yeah, that's paysite quantity. Not bad for free.
A row of Featured Hentai Series shows really filthy screengrabs from some of the site's most popular offerings. Hovering over an image gives some additional info. The chick with the cum all over her face, for example, is from something called Maid-san to Boin Damashshii The Animation.
Yeah, that title is fucking gibberish to me, too. Fortunately, Hentai Stream has included a convenient description. It's about some rich people fucking their well-endowed, horny, and sexually talented maids. Tags include Anal, BDSM, Bondage, Internal Shots, and Mammary Intercourse.
The maid hentai is also tagged with Uncensored Nudity. You fuckers who already beat off to a lot of hentai are probably salivating now. The newbies don't know why Uncensored Nudity is so exciting on a porn site.
Blurred-out, pixelated genitals are common in hentai. There are some big sites that don't have a single clear image of a cunt or a cock. HentaiStream ain't one of them.
Beneath the Featured Hentai Series on the front page are the latest episodes. There are 18, going back a month or so. Not a bad rate of growth for a free site, especially considering they're all full episodes.
A sidebar on the right shows some porn site partners and a bunch of social media options. HentaiStream has a very active Facebook account, with over 7,000 followers who don't care that everyone in their family knows they masturbate to tentacle-penetration cartoons.