HentaiHaven.me review
back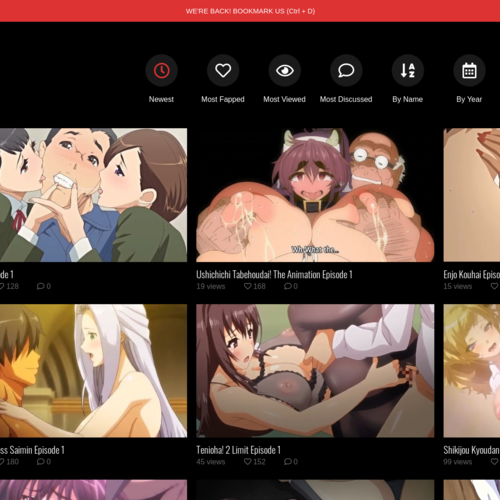 HentaiHaven.me
Now, you will also find that there are also additional "categorizations" on HentaiHaven.me, and that's pretty great. We will talk about these categorizations a bit later, though. Oh, and there's a search bar in the upper right corner, too, so make sure to check that out. Of course, if you don't know what you're looking for, then you will surely waste your time trying to fool around with the search bar. All the titles of the movies are in Japanese, so unless you know the title of the hentai you want to watch, the search bar won't be that helpful.
I would like to mention the fact that I haven't seen a single pop-up ad in here, which is great. However, there are some static ads on this page, and they aren't that annoying if you ask me. There's usually only one on the homepage, and the only thing it does is chill at the top of the website, and that's about it. These ads usually don't even play animations, so they go easy on your random access memory.
We've yet to talk about pure aesthetics here, but honestly, I don't think that many of you people care, but in the end, you should care. I mean, what kind of porn addict are you if you don't analyze every little thing on a porn website? First off, I like how "plain" this page is, but then again, all of this simplicity and the clean vibe that HentaiHaven.me gives off is suffocated by the colorful thumbnails you find in the middle of the website.
Now, they are neatly arranged, but they don't really do anything when you hover above them with your cursor, and that kinda sucks. What I like is getting little previews when I hover above porn movie thumbnails with my cursor, but this doesn't happen on HentaiHaven.me for some reason. Having that tiny gif play right underneath your cursor is a great thing since you get to know just what you are getting yourself into! A single screenshot from the movie is usually not going to be enough for the majority of people, but that's just my two cents.
At times, it is probably more interesting for people to see a single thumbnail rather than a small video playing right underneath their cursor. Porn addicts do tend to be weird people, though, and as such, they are somewhat unpredictable. Now, we find that this page also has their movies sorted out alphabetically, which is also something that you don't get to see too often. I don't even think that this kind of thing is necessary, seeing as you will most likely be seeing the majority of these hentai movies for the first time in your life. When all things are taken into account, though, HentaiHaven.me only has some flaws, and you should not care about them way too much, as they won't fuck with your experience too bad.