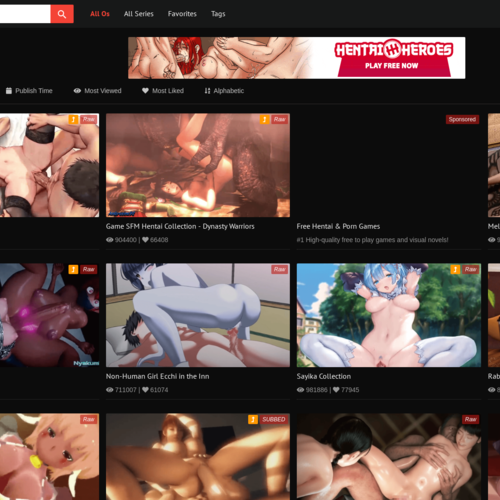 Ohentai
Ohentai does a good job of picking great content. It's not just random shitty porn you'll find here, but great scenes and episodes of hentai that are popular and high quality.
One of the best features about Ohentai, isn't even the hentai itself. Ohentai also features a lot of 3D and game CGI porn videos that are just as great to tug your willie to. There is some great 3D porn here that is high quality and more than just repetitive fuck scenes.
Speaking of quality, many of the videos are in 720p and 1080p. This is basically HD quality, and it's fantastic when there are even paid sites that don't offer this kind of video quality. Having a site like Ohentai collect these free videos from around the web is a godsend when you want to get that HD nut bust. Fuck pixels.
The layout is fairly standard like most hentai video sites. The main page will have a big gallery of videos sorted by date added. You can also quickly sort the videos by title, most viewed, most liked, or alphabetical order.
On the left side of the page is the major categories. The categories include things like uncensored, 1080p, 3D, game CG, blow job, mind break, rape, and of course, big boobs. As you can see, Ohentai makes its categories a little more interesting than just "teens" or whatever, because hentai is where you can explore some darker shit. Mind break is my shit, you know, when a bitch just gives up and lets you do whatever the fuck you want to do.
When you click on a video you'll be sent to the video player site. The first thing you need to note is that at the top of the video are other video hosts. For me, the "Beta" link was broken a lot of the time, and I had to rely on Host1 or Host2 to get the video to work.