HentaiTube.online review
back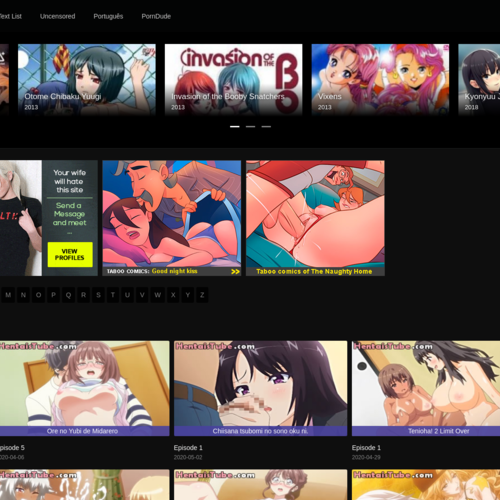 HentaiTube.online
HentaiTube.online was registered at the tail end of 2018, making them a relative newcomer to the world of anime porn tubes. The nerds eat this shit up, though, so their traffic has been steadily climbing ever since their inception. Lately, they get well over half a million visits every month, a sure fucking sign that HentaiTube is a legit tube full of hentai.
Hentai websites don't necessarily follow the wall-of-porn design scheme of your typical sex video tube. Despite the name, HentaiTube doesn't immediately look like a tube either. The format is a bit more elaborate, more nerdishly obsessive in its presentation. Hey, what do you expect from a site built by and aimed at fans of big-eyed anime sluts getting fucked by monsters?
A selection of popular releases slides by the top of the screen. Yubisaki kara Honki no Netsujou: Osananajimi wa Shouboushi, a romance/comedy ecchi about a firefighter banging a childhood friend, is the most recent one. A lot of the flicks are older. I see Five Card, Flutter of Birds II, Like Mother Like Daughter and Wizard Girl Ambitious listed prominently, and they're all 2013 releases.
Tons of newer shit is available further down the page. The Recent Episodes feature anime smut like Kiss Hug, Valkyrie Hazard, and Ochi Mono RPG Seikishi Luvilias. I've got to admit, I don't necessarily know my hentai titles, but the thumbnails give some major clues about the content. That last one shows a naked broad shackled in stocks, getting fucked doggystyle. The thumb for Dokidoki Little Ooyasan shows a little slut held upside down for some deep dicking.
Larger images accompany the row of Hentai Releases, and they're just as filthy. Aibeya features a schoolgirl flashing her ripe melons and spreading her legs. A devil chick with massive titties is covered in some kind of slime on the cover of Love X Holic Miwaku no Otome to Hakudaku Kankei. Some topless space broads are getting restrained and groped by a bunch of tentacles in Valkyrie Hazard.