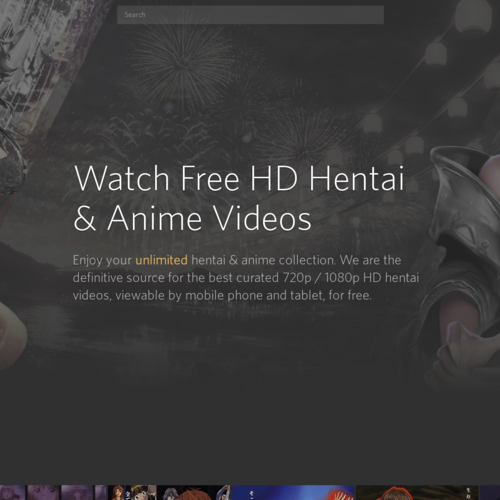 Hanime.tv
Tons of Anime Porn to Choose From, Plus More
There are hundreds of websites that cater specifically to the anime porn fan. Many of which rely heavily on community engagement and offer forums or allow users to submit content that they find on their own. And Hanime.tv has not shied away from this tradition. But it looks like HanimeTV does something a little different than their competitors as well.
From the moment you land on Hanime's home page, you are greeted with a giant banner featuring two beautiful hentai ladies in the background, surrounded by grayscale fireworks over a Japanese skyline. In the center of the banner, the site welcomes you: "Watch Free HD Hentai & Anime Videos," it reads, "Enjoy your unlimited hentai and anime collection. We are the definitive source for the best-curated 720p / 1080p HD hentai videos, viewable by mobile phone and tablet, for free."
Scroll down just a little bit and you find what looks kind of like a hentai porn tube site. The homepage is sectioned out, with large thumbnails in each section. Choose from recent uploads, recent image uploads, new releases, trending, and random. Easily swipe through the list in whatever section looks appealing by clicking the right and left arrow buttons and enjoy as much anime porn as you like!