Simply Hentai review
back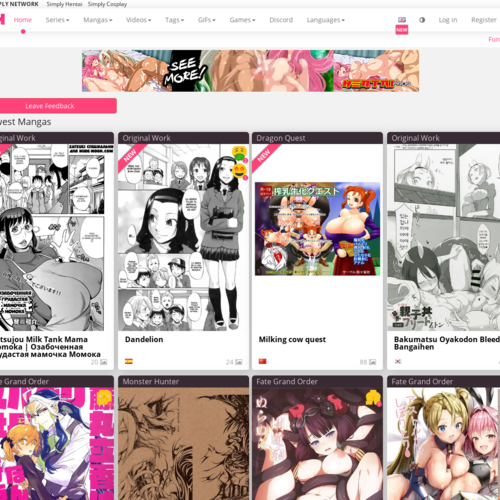 Simply Hentai
Simply-Hentai has a clean and simple layout that makes browsing easy. When you first enter you'll be sent to the manga gallery, where you can find the newest comics of all kinds of bitches. Make sure to check the country flag at the bottom left of each manga to make sure it's a language you can read.
Well then again, who the fuck needs "words" and shit when you're jerking.
Along the top of the page, you'll see the major categories which include mangas, videos, series, tags, GIFs, and games. The "Series" category is where all the famous series like Pokemon and Naruto are laid out, and you can check out all the hentai that features the cunts from these stories.
To give you a sense of Simply-Hentai's size, it hosts over 500 comics for Naruto and over 300 for Dragon Ball. That's a lot of jerking off to your childhood fantasies. While most of the shit is famous Japanese anime, there is also plenty of pictures and comics for bitches from Disney, Marvel, etc.
You can browse the content by their popularity, rating, newest, and most viewed. I'm not sure what's the difference between popularity and most viewed. Browsing by rating works pretty well on this site, since the top comics have over 500,000 views with some nearing a million.
Each section also has a convenient search bar on the upper right if you know what you're looking for. In addition to names, you can also search by tags like big tits or "rape", and you will find plenty of stuff.
Finally, Simply-Hentai has solid mobile support, so don't worry about browsing it on your phone. The layout is easy and fast to browse, and everything is resized conveniently for your dick's pleasure.