Doujins (Doujin Moe) review
back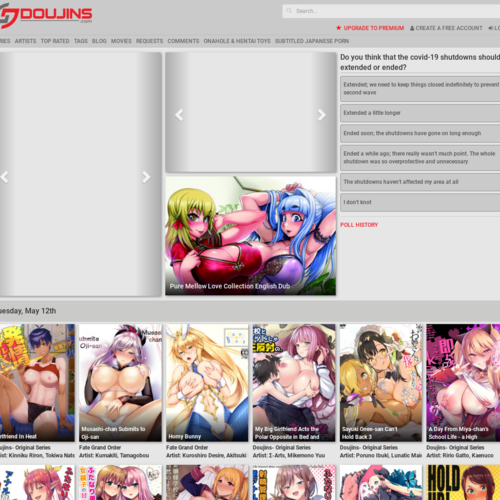 Doujins (Doujin Moe)
Doujins.com (previously known as "doujin-moe.us") has been around a while—the domain was registered way back in 2002. That's a long time to build a collection of spank material, so you know they've got to have some stash. They've also built quite a following over the years. Doujins currently pulls nearly 7 million views a month.
A doujin, according to Wikipedia, "is a general Japanese term for a group of people or friends who share an interest, activity, hobbies, or achievement." So, basically, it could be a sewing circle or after-school prayer club. There's nothing inherently sexy about it, at least not if you're going by that basic definition.
The term is also used in Japan to refer to independently or self-published works, like manga, novels, music, and video games. On the Internet, it generally refers to a specific type of material. You're reading this on The Porn Dude, so I think you can already guess what kind of indie media you're going to find on Doujins.
If you guessed that Doujins is a hentai site, we have ourselves a winner! Your prize is thousands of hentai galleries, all available for your free masturbatory enhancement. Losers get the same.
One thing you'll notice right away is that the quality of the smut on Doujins is very professional. This may be unlicensed, unsanctioned manga pornography, but they're not letting any teenage Pokemon fan with a boner submit their art. No, the 153 galleries of Pokemon hentai were drawn by artists who know their shit.