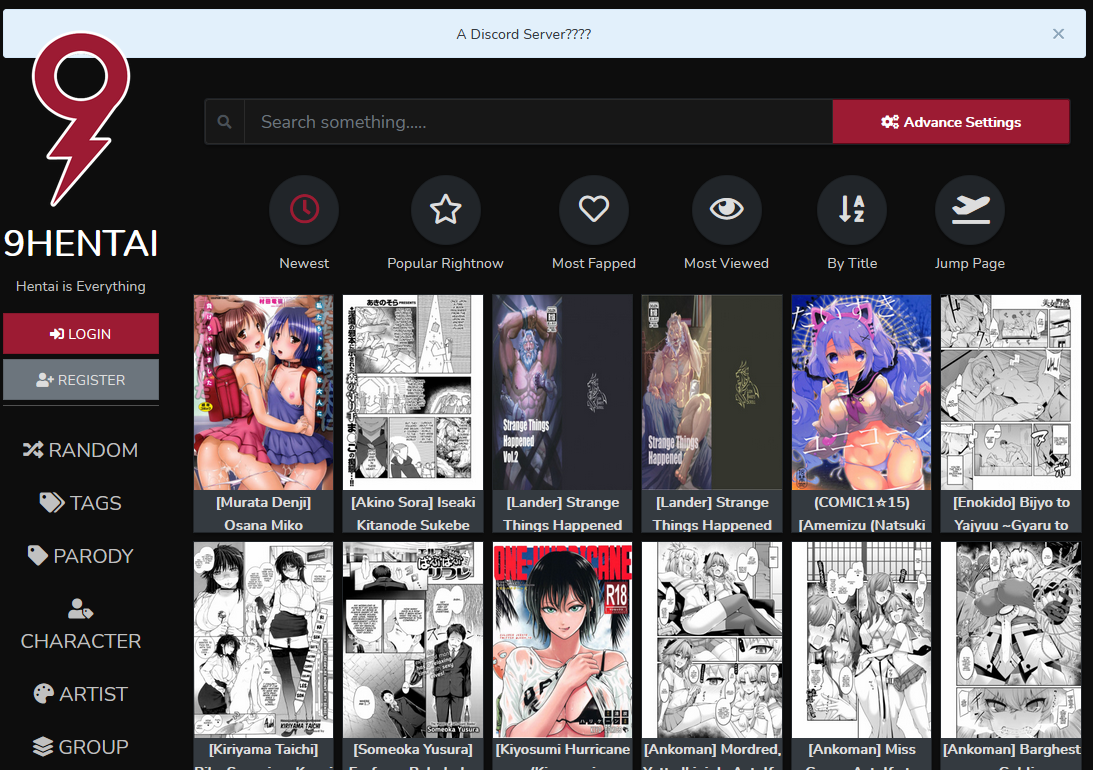 9Hentai
9Hentai has a cool modern layout that separates itself from most hentai doujin sites. Not only is the coding a little more up to date, but 9Hentai is super respectful with its ads. You won't find any annoying popups or pop-unders here; you'll just see a couple of banner ads floating around that you can safely ignore.
When you first enter 9Hentai, you'll see a sexy ass gallery of the latest featured pussy. Below each cover is the title and author, although you'll probably be too busy focusing on the pictures.
Along the top of the site is a search bar. You can adjust all kinds of advanced settings, including page count range, included or excluded tags, and search tags. This is a super flexible search engine that puts most other porn places to shame.
Below the search bar, you'll find the main categorization buttons. You can organize the main gallery by newest (default), popular right now, most fapped, most viewed, or alphabetical order. The "Most Fapped" category is just a most favorited ranking, so don't think it's anything crazy.
One cool feature is the "Jump Page" button. Basically, this lets you jump to different pages of the main gallery. If you've read hundreds of doujins like I did, you'll want to jump to page 25 to find some fresh pussy to jerk off to.
Personally, I prefer to ignore the main gallery and use the links on the left. You can browse 9Hentai by tags, parody (Rule 34), character, artist, or group. Parody is where you'll want to settle down if you want to jerk off to some bitches you're familiar with like Asuka from Evangelion or Nami from One Piece.
Searching by characters works well too. 9Hentai works hard to tag all the bitches featured in these comics, so if you refuse to fap to anyone except that one special 2D waifu, 9Hentai has you covered.
You'll also find a Video link, but it was still under construction at the time of this writing. All I can say is this: if 9Hentai can bring hentai videos like it brings doujins, it's game over. 9Hentai is going to take over the game like Ryota from Slam Dunk.
So what's my problem with 9Hentai? No list view. As perfect as this site is, there is no goddamn list view. I can't believe it.