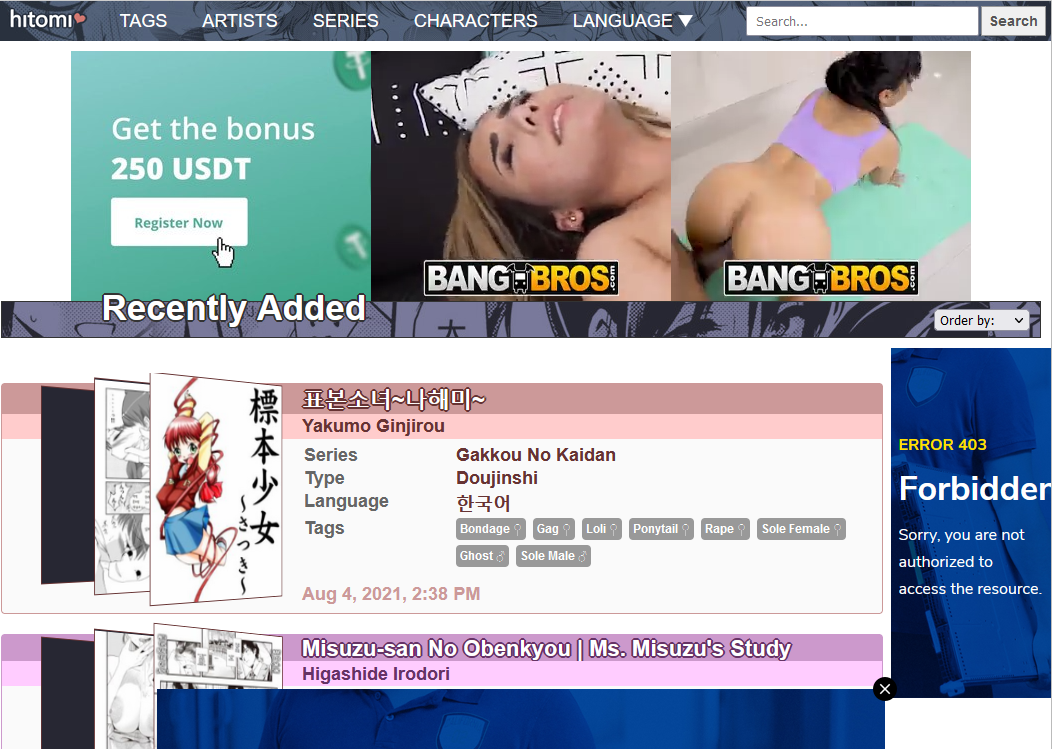 Hitomi.la
Hitomi.la has a couple of dozen different languages in the header dropdown, which means they get a lot of international traffic. Hell, these fuckers just get a lot of traffic in general. Forty-five million views a month is a lot of people jerking it to a lot of dirty comic books. Sites usually don't get that big if they're fucking garbage, not unless you count Facebook. Let's see what kind of pervert bait they've got laying around.
One thing I like immediately about Hitomi is the no-bullshit layout. There are a couple of animated banner ads that made it past my spam blocker, but besides that, it's just an endless catalog for hentai beginning at the top and starting with the very newest stuff. Scroll past the 25 dirty mangas, doujinshis, and game/artist CG galleries and you're ready for the next page.
(In case you were wondering, the ads I saw are for porno video games. Pretty much what you expect from a hentai site, right? One girl has big fluffy ears, a long tail and her tits hanging out. The other also has animal ears and is stretching her asshole out while an animated mouse spears it over and over again. It opens and closes almost like a mouth but more hypnotically. It almost whispers, come, come, spend money! But you're here for the free stuff, aren't you? Don't click that enticing cartoon pooper!)
You've got a lot of time on your hands, right? And lube? And one of those silicone schoolgirl pussies with the vagina ridges inside and everything? Because this archive is fucking huge. It spans 18,667 pages so far, which is nearly half a million skeezy little storybooks to indulge your inner pervert.
If you don't touch the Language dropdown, you're looking at everything in every language. That's my preferred view, but it's not the dialog I'm after when I'm masturbating to hentai about business ladies doing anal with river monsters. If you're into the words, select your language of choice to narrow down the selection to your mother tongue. Mother's tongues, incidentally, are popular at Hitomi.