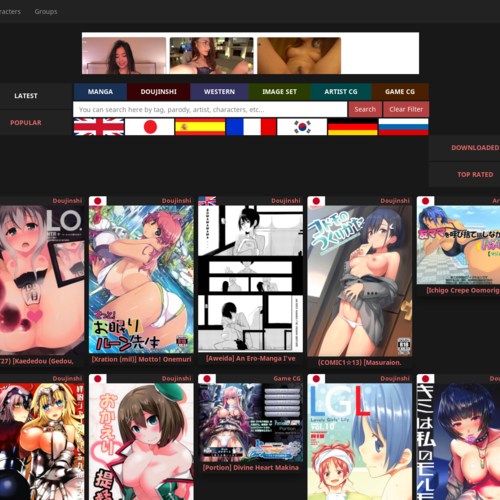 IMHentai
Imhentai.com is a free doujinshi/hentai manga site with a massive collection of full-length doujinshi. And these fucks are brand-spankin' new to the porn scene. They really only started bringing in traffic a few months ago. In those few months, they have rocketed up to over 100 thousand views every month. For a brand new site, those numbers are nothing to scoff at. Some shitty sites never even crest that many and they might have been around since 1995. But I bet your ass that this site is going to be big. Let me tell you why.
First off, they have a dark theme. I know I harp on that shit all the time, but it matters, especially for a site that's all about reading and jerking your dick to pictures. The entire site is actually sleek as fuck. There aren't any ads to be seen. No annoying banners, pop-ups, redirects, or any of that bullshit. And they accent the black theme with red, which looks almost as nice as some Japanese slut in black and red lingerie. I need to get a ticket back to that fucking place. It's full of hot babes.
You'll see a short, simple header up top with options for "Random, Tags, Parodies, Artists, Characters, and Groups." No unnecessary stuff to be seen here. Just the options you need to browse the site. They've also got a login option. It was a little janky. I tried signing up and it gave me an error but made my account anyway. I don't know. All I know is that a free account lets you add hot doujinshi to your favorites for later fapping.