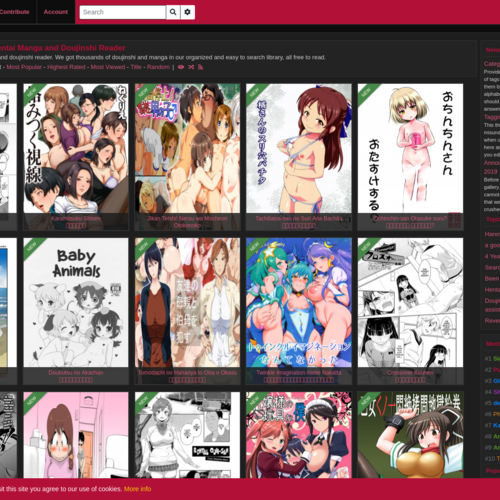 Pururin
The site calls itself "a free hentai manga and doujinshi reader." I had to look up doujinshi, but it's the same thing as manga, only self-published. Manga is the same thing as comics, except they're from Japan. Got it? Let's go find out why 6 million visitors are playing pocket pool to Pururin's selection of sex comics.
When I heard the name, I actually thought Pururin was going to be another golden showers website. Pure Urine, you know? It turns out Pururin is actually how Japanese people write out the sound of their phone ringing. Try yelling "Pururin" a few times and see if anybody checks their phone.
Google also tells me Pururin is the name of a character from an anime called Welcome to the NHK. Weirdly, nothing comes up for her when you type her name in the search bar. I can only guess they called the site Pururin because you can look at it on your phone.
The main page is a wall of anime broads with giant eyes and giant tits. Some look really slippery, covered in cum or pussy juice. I guess it could be tentacle fluid, considering this is hentai. One drawing of a really cutesy face has a big, veiny cock pressed against it.
It's a super-simple layout. Besides that main wall of images, there's a small sidebar with some site news, help topics, top contributors, and a few currently popular images. If you click the next page button at the bottom, you can keep going until you reach page 1,634. That's a lot of fucking hentai!