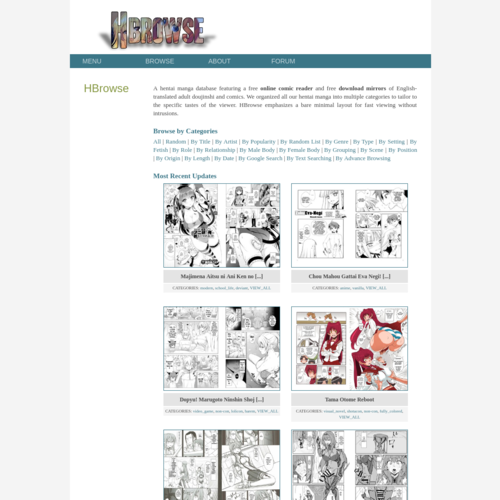 HBrowse
Hentai is nothing like your typical pornography. It definitely sets itself apart from the rest of the adult industry. For one, most of the material involves reading. Manga books are the number one form of hentai (with hentai videos and games coming in at a close 2nd). There are thousands of manga series, each with multiple issues, and fans either buy physical copies (much rarer in the United States) or view translated versions on sites like HBrowse.
If you've never seen hentai videos or read a manga before, the art style is very similar to that of anime. So, just picture the hottest anime girl you've ever seen, put her in an extreme sexual situation, and you have hentai. For that reason, I would imagine that there is plenty of crossover between fans of anime and fans of hentai.
Personally, I've never really understood the desire to jerk it to a cartoon (well, if I'm being completely honest, I guess I did have a thing for Jasmine when I was a kid). For me, porn is so great because it brings your fantasies a little bit closer to reality. Always wanted to fuck a sexy French maid? No problem…there are hundreds of thousands of videos for you to watch of French maids getting fucked, just pretend the dick doing the fucking is yours, and you're good to go. Hentai, though, seems to be about pushing that fantasy even further, leaving reality far behind.
Another element of hentai that contributes to it being worlds apart from the rest of the content in adult entertainment is that it often includes unusual or extreme depictions of strange sex acts. I'm talking drawings of really young-looking girls getting fucked by tentacles or chicks that are half-human, half-fox sucking impossibly large dicks.