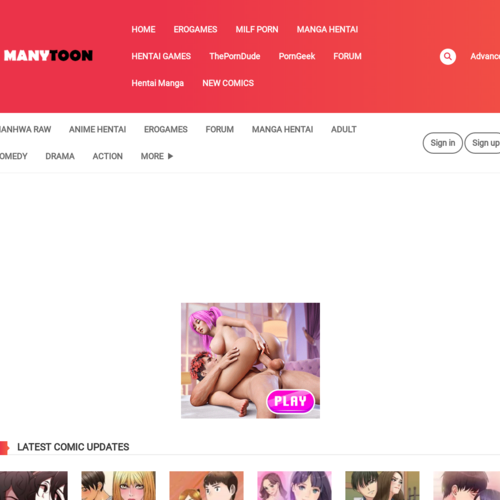 ManyToon
ManyToon.com is a new one, exploding on the web in July 2019. A lot of these sex manga websites pop off in a big way, and these fuckers are no exception. I guess you nerds are just always on the lookout for new sources of lolicon bondage and kinky beastiality comics, huh? There aren't many sources for these things, which helps explain why the site is already getting around 6000 visitors each and every day.
When I hit the landing page at ManyToon, I wasn't sure immediately if the website was all about comics or animated cartoons. Why? Even with my spam blocker running, the page is kind of ugly with advertisements. The first thing I see on the page is a big, broken block that my plug-in couldn't fully get rid of. Below that is an animated GIF for a free MILF tube.
Scroll down a little bit to see the website's actual content. The latest comic updates feature new chapters from a bunch of ongoing hentai series. I see sad but buxom schoolgirls, naked housewives, and a couple of hot bitches tied together with their cunts in each other's faces.
The little thumbnails on the front page are sexy, but they're actually not all that explicit. You can tell some of these girls are in the process of getting railed really fucking hard, but there's no visible penetration anywhere. On closer inspection, none of the nipples are even visible on any of these giant, glistening manga titties.
Despite the lack of fully defined genital insertion out front, some of these titles give away the utter kinkiness inside. The picture for Barefoot: The Leash Manhwa Season 2 doesn't actually show a leash, but that naked girl probably looks afraid for a reason. I'm guessing the school crime in School Crime is something that can get you permanently placed on the sex offender database, and My Aunt is almost definitely an incestuous one. The title for My Dog Fucks Me does all the explaining for me.
ManyToon is proud of their huge collection of porn manga, but they've also got a clear dedication to the entire world of Asian sex comics. They make sure to mention manhwa, the Korean version of manga, and manhua, which is similar comic smut from China.