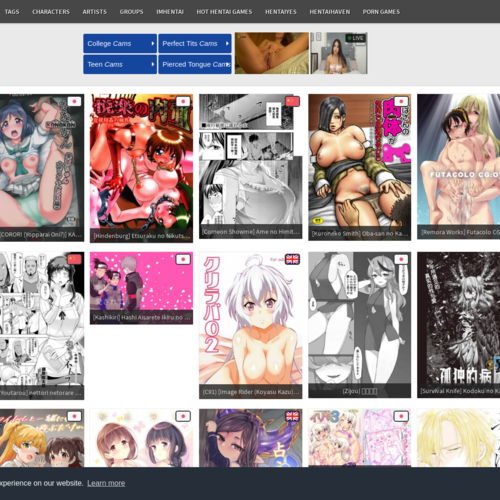 AsmHentai
Asm Hentai is, for the most part, a website that is entirely dedicated to posting Japanese pornographic comics which usually has somewhere between 15 to 30 pages, so if you are up for a quick wank then you might as well scroll through these pages real quick, but you might as well dwell onto these single images if you want to praise the detailed sexy drawings that these "porn" artists have made.
So, if you are somewhat familiar with 2D pornography, or Hentai as the Japanese call it, then this won't be weird to you at all. It's quite easy to get into it. However, you've probably only seen animated Japanese porn, but you most likely never ran into Doujinshi, and things of the sort. If you are new to these things, then you might need a small introduction. These comics can sometimes be a little bit different, compared to the animated porn which is basically the same thing that you're going to see on Brazzers or whatever big website you like checking out for your porn, the only difference is that some Japanese dude took his time to draw it.
There are quite a few specific tags that the artists put on their Doujinshi and these are, just like in any other type of porn used to tell apart different kinds of porn, obviously. Should you decide to click on one of these comics, given that the cover art was attractive enough to make you drool a bit, then you'll quickly notice that these tags are found right next to the first page of the doujin, and these tags are a bit different than the usual tags you find in regular porn.