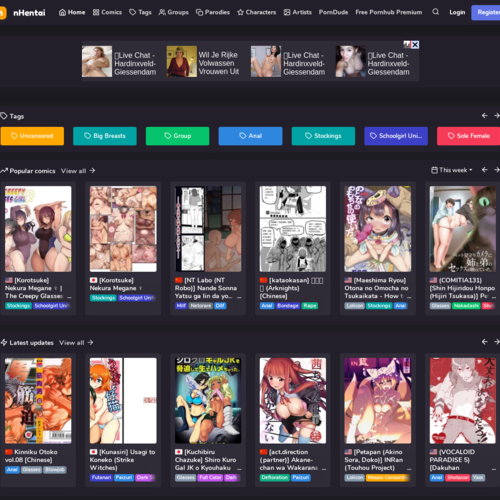 NHentai.com
Somebody sent me the URL to nHentai.com this morning and I pulled it up. I was pretty sure I was looking at nHentai.net at first because the layout and content are pretty damn similar. There is a banner ad for a crazy otaku game featuring an animated loop of a manga slut with glasses getting plowed. I don't really like seeing advertisements, but I do like seeing the uncensored Anime cunts and cock. That tells me nHentai doesn't play by the same stupid fucking rules as other hentai websites.
Censorship is common as hell in the genre, thanks to Japan's nonsensical and ambiguous laws on the subject. I scrolled down the page, hoping to see more nasty, unobscured genitals, and the site did not disappoint. I didn't have to leave the front page to see a green-haired girl squirting a ton of fluid from her cunt, a futanari (dick girl) with a raging hardon, and a manga MILF getting her twat stuffed by a giant cock. The babe in the drawings doesn't look that old, but I know she's somebody's mother because there is a text bubble of someone screaming, "Mom!"
And those are just the hentai covers. Like other sites in the genre, the thumbnails that line the front page are simply the covers to full adult comics. Below each thumbnail is a flag that tells you what language the smut is in, a title, and a few relevant tags to help guide you toward the right masturbatory fodder for you.
The tags are all in English, which really helps narrow down the selection. The titles don't necessarily mean much to me if they're written in Japanese, but I know that busty maid in Silicon Jichou Condessa gets into some anal adventures and that romantic drawing of the little chick hugging some big manly dude is really an incest story involving at least one elf. The cutesy cover for EnMaya Bob R GrinD spp Trim looks like it might be some stuff for nerds, but the three most prominent tags are Group, Lolicon, and Rape.