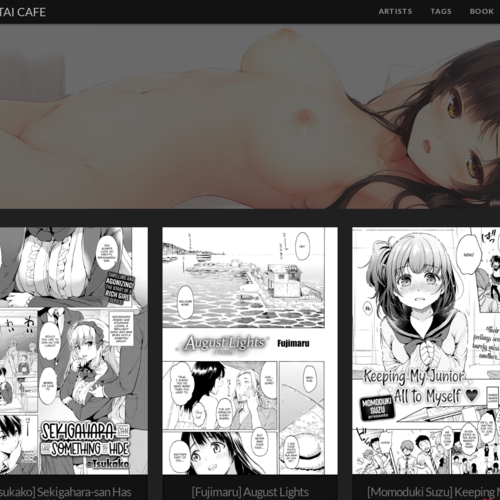 Hentai Cafe
Hentai Cafe is equally appealing regarding the design which stands out not for the sophistication, but for simplicity. There is nothing on the main page to distract you from the content; just a variety of anime porn on a black background. You can pick out anything from a million miles, and the site generally looks very well maintained. There is also no single ad in sight with the site offering an immaculate experience. To be honest, you will struggle to find a cleaner and better-arranged site.
There are zero complications when it comes to navigation as well. You can access tags, books, and artists from the main navigation. Besides that is the search option which doesn't need any explanation. There are only a few links to click, and they all lead you to destinations where you can find some of the hottest hentai porn. Scroll down the homepage to access the browsing menu which reads to a maximum of 363 pages. Pagination may be limited, but that's just about the only blemish in otherwise seamless navigation. The site is also fast when it comes to browsing.
For purposes of clarity, there are no videos on Hentai.Cafe. Instead, you get an assortment of manga and comics telling all manner of naughty stories and featuring all sorts of naughty characters and kinks, sometimes bizarre scenes. Just click on Books from the top navigation and get the best of Hentai Café. The first thing you will notice in the case you are n dump ass is that the animation is done to perfection; the characters are very attractive, and some of the animations look frighteningly close to reality. This is pure artwork coupled with some very imaginative minds. Reading through random descriptions, the books feature some well thought out plots as well.