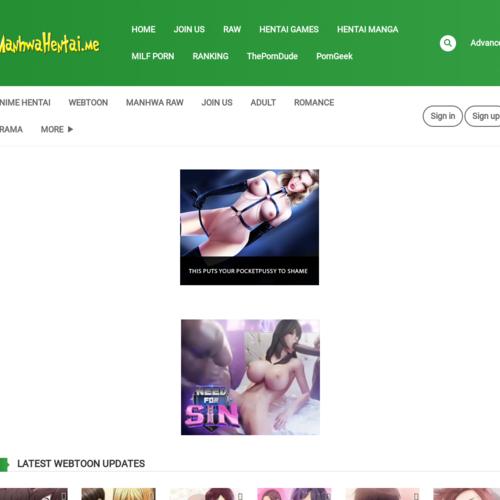 ManhwaHentai
ManhwaHentai is here to bring you the raunchiest comic books from the land of the rising sun and beyond. That's right; this hentai isn't made exclusively by eastern artists. We're way past that. Hentai now belongs to the world of smut, and anyone is welcome to make their own naughty comics. Isn't it amazing?
But the fun doesn't stop there! There are so many artists out there that take hentai into new and uncharted territory. They innovate with their art style, drawing all kinds of new and impressive breasts and asses that'll make your head spin. If you're sick of watching the exact same kind of hentai mangas – that means comics – then this is the site for you.
I went into this review expecting to see the exact same shit that I always see on manga sites, the old ass hentai style that everyone and their grandmother has seen by now. These comics are fucking original. I mean, every single artist on this website has their own style that they've pretty much invented for their comics. I didn't even know this type of shit was a trend. I mean, you look at the home page of this site, you're going to see a shit ton of different styled tits and asses and eyes and all kinds of goodies on women of every shape and size. No two artists on this site draw in the same way. I love it. There's nothing my dick likes more than variety, and that's what you get with this site.