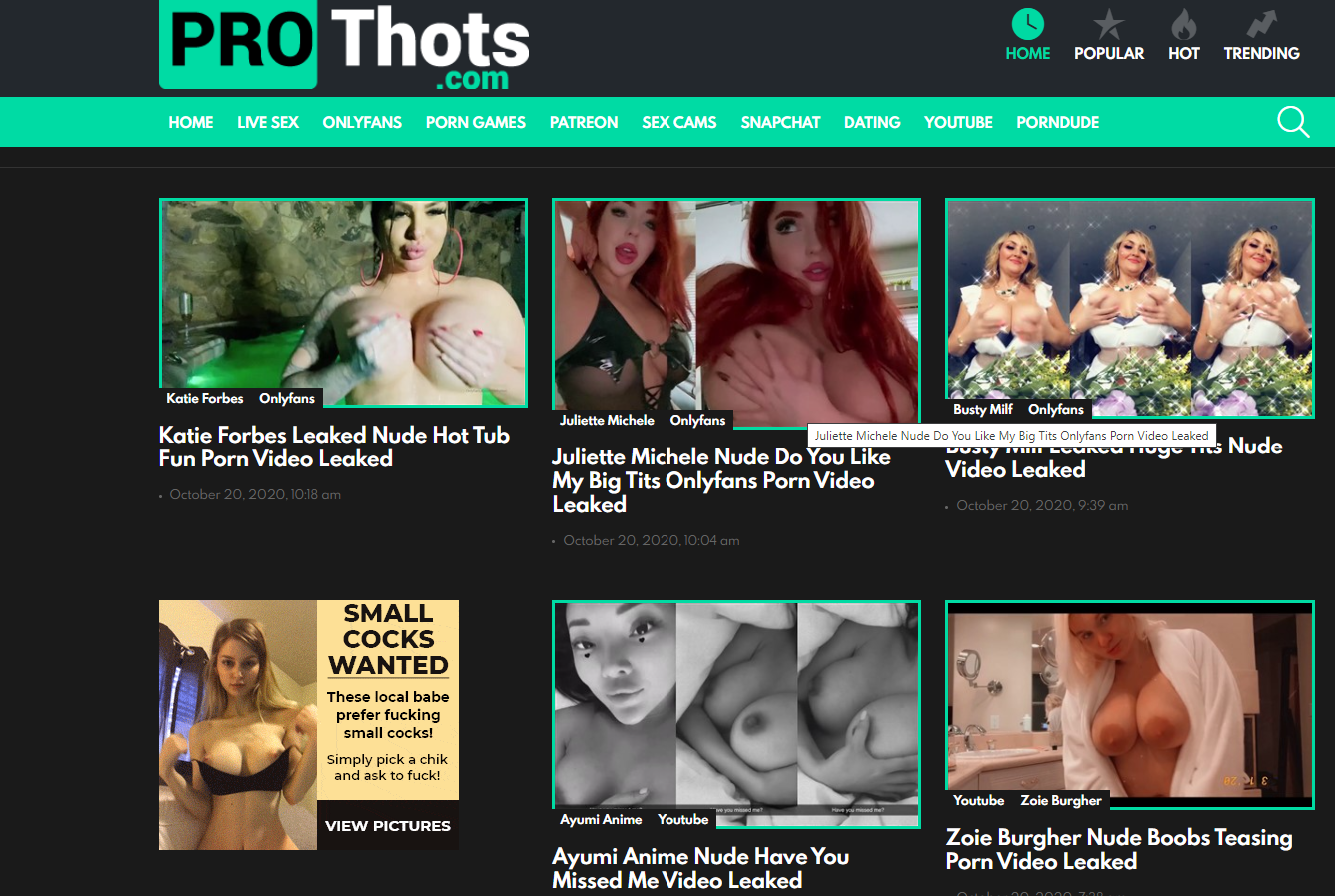 ProThots
ProThots.com is dedicated to showcasing exactly those professional thots I'm talking about, the ripe young beauties of social media defining a whole new era of amateur pornography. This free tube is full of YouTube babes, Patreon sluts, and OnlyFans leaks. Something tells me this is going to be a lot more efficient than just typing "boobs" and "cosplay" into the Instagram search bar every day.
ProThots has the same basic sex tube layout you've seen a million times before. Their logo copies the aesthetic of PornHub's, which itself was designed to look like the old YouTube logo. The overall layout looks sleek and clean with my ad-blocker activated, and ain't bad even unfiltered; a thumbnail-sized Chaturbate link is the only spam I see if I remove my blocker. A few attractive icons offer quick links to their Popular, Hot and Trending material.
Free tubes are so fucking common these days that it really helps to have a gimmick. I'm sure you've seen infinite variations of tubes filled with movies scraped from PornHub and then piled high with spam. Imagine how many you'd see if your whole job was reviewing porn sites all day and night and you'll understand the plight of The Porn Dude. Every day is forearm day and I have to buy lube by the barrel. The least you aspiring Internet pornographers can do is switch up the formula a little bit!
ProThots catches my eye instantly with their laser focus on these social media babes, immediately differentiating themselves from the ubiquitous all-around-sex tube. The header lists some of their most popular categories, and it's a lot of the attention whore sites you've been shaking your dick at already. OnlyFans, Patreon, Snapchat, Instagram, Twitch and YouTube are their featured categories.