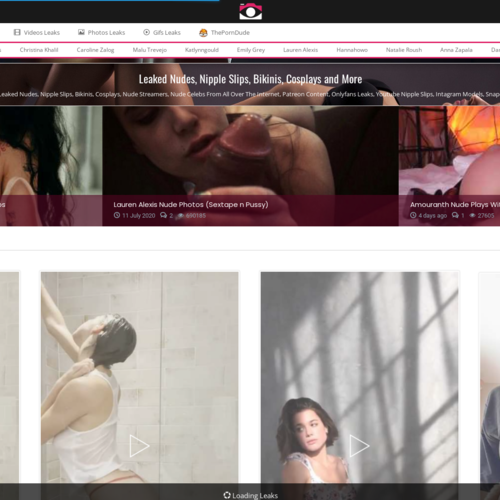 Ibradome
Ibradome.com is a newer site, but they've been getting a lot of attention, mainly due to their focus on the hottest internet celebrities at their naughtiest. I checked out the site on a weekday morning, and hundreds of users were signed into their leaked nudes forum. That's a sign of a healthy community of perverts, which ain't something you build up unless you've got some truly fapworthy smut on your hands. Let's see what they're all shaking their dicks at.
I pulled myself out of bed a little while ago with my morning wood throbbing. I guess I was only half awake when I first pulled up Ibradome, because I thought the logo was some kind of modified Pokeball. This clearly ain't a hentai site, though, so I shook my head and it came into focus. It's a camera with an eye embedded in it.
It's a fitting insignia, because these girls love the camera and we love eyeballing them through the same lens. All kinds of Patreon babes and OnlyFans hotties are lined up and down the page. Their layout is modern as hell, with vertical columns of thumbnails more like a social media site than your typical free tube. It gives the presentation a sleek look, though you may not even notice the layout on account of all the hot, naked flesh.
They've got some of the top Internet sluts laid out like a mouthwatering menu of meat. These girls are the newest kind of pornstar, the self-made web chicks exposing themselves and getting famous on sites like Instagram, SnapChat, YouTube and Twitch. Right at the top of the front page, I'm seeing girls like Tiffany Cappotelli, Heidi Grey, and a whole slew of freshly uploaded Kendra Karter leaks. There's a fair amount of crossover with traditional video pornstars, and we may see more if this coronavirus bullshit keeps up. Lana Rhoades is seen getting it on with some girlfriends, and Kendra Spade is fucking some dude in the bathroom at a party.
Some buttons at the top let you view the content by Today, This Week, or This Month. I checked out today's offerings and holy shit! Ibradome.com is updated with dozens of new videos and photosets every day. I guess it's a really good thing you're working from home these days, because HR typically frowns at masturbating furiously beneath your desk.
Where do I start my fap test on a site like this? They've got a bunch of points of entry, and my boner wants to get inside all of 'em. There are a couple featured scenes right above the scroll of fresh content, enticing me with fully nude masturbation scenes to masturbate to. They've also got a row of some of the most popular girls spelled out in the header. Ally Hardesty, Jessica Nigri, Kat Wonders and Christina Khalil and turning a lot of heads these days, but I bet you knew that already.