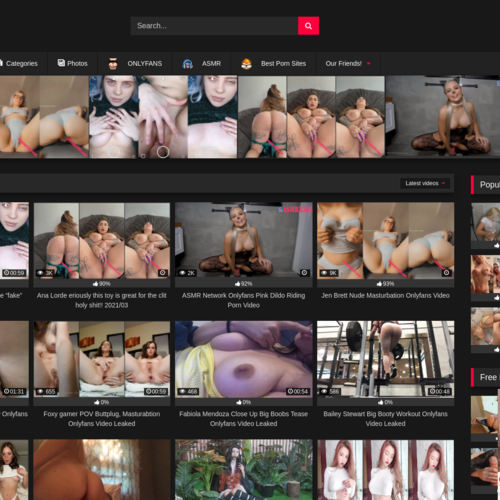 Nudes7
Nudes7's layout gives it away as a free tube the moment you load up the site. Beneath a simple but elegant logo, they class up the typical wall-of-porn view a bit by doubling up the most recent videos in larger thumbnails that scroll across the very top of the screen. Shit's clearly been good lately, because the latest flicks feature Misha Cross, Remy Rayne, and a tatted-up blonde fucking herself through a pair of crotchless panties.
A couple of sidebars give a selection of Popular videos, and a more nebulous selection of Free Premium Porn. Since everything here is free and a lot is premium, it may not be obvious what separates these blowjob videos and butthole-finger adventures from the rest of the catalog. As a porno webmaster, I can tell you pretty confidently that the Free Premium Porn label is more for Google than it is for you. It's pretty obvious from the tissues and lotion that you already knew what you were getting into.
But let's talk about that free premium porn that makes up most of the stash at Nudes7. One of their main gimmicks is that they've got paid material for free. Most of the front page is bitches stripping, riding dildos and doing cosplay with their titties out in OnlyFans videos. That Misha Cross flick, the very newest scene on Nudes7.com, comes from EvilAngel.
If you're familiar with the format, you've probably got an idea of what you'll find. A lot of these chicks are stripping and diddling themselves in front of a webcam, so you'll find plenty of solo material among the menu. There are also specific subgenres of smut that seem to do better on sites like OnlyFans than they do elsewhere. You'll find plenty of that extra-kinky solo smut like ASMR, cosplay, JOI and all kinds of depraved roleplaying.
If I have one immediate complaint about Nudes7, it's that there's no obvious way to search through the categories. There's no Categories page, nor any cloud of tags of Blowjob, Feet, and BDSM like you'll find on a lot of tubes. You'll get handfuls of hits if you type things into the search bar, but it's only really flipping through the titles.