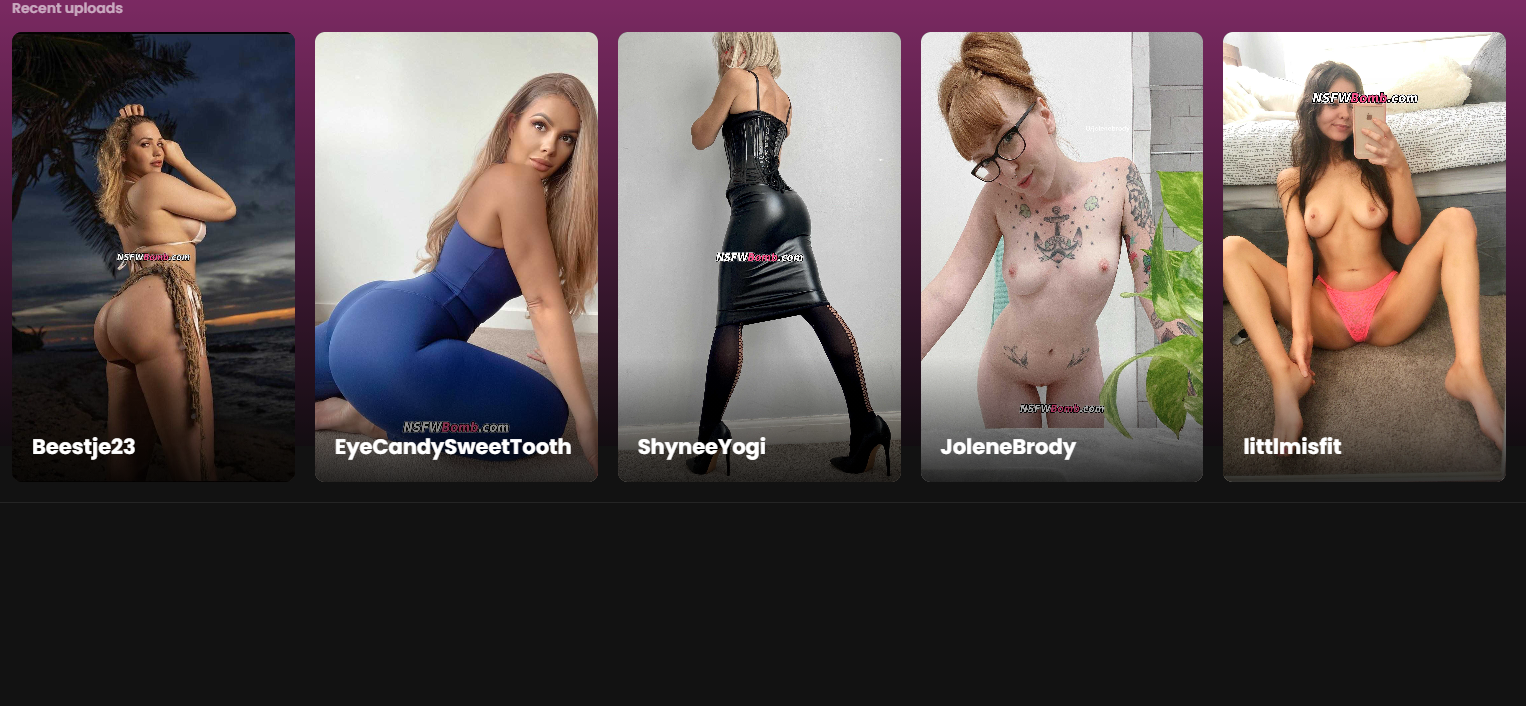 NSFWBomb
NSFW Bomb is something else. They're clearly going for the modern style of social media networks, perhaps aping the apps more than the web layouts of the giants like Instagram and Snapchat. The site's designed with a mobile view in mind; desktop users will have to click and drag to swipe in either direction, which didn't stop feeling awkward even as I kept browsing the site. The layout is simple and to the point, giving us a couple of clean rows of nudes to swipe through: Trending Today and Recent. At the bottom is a simple, app-styled menu with quick access to the Categories, Upload and Search functions.
The images of sexy cosplay babes and naked social media sluts are rounded on the corners like playing cards, helping maintain that modern, social media app feel. That's exactly the right feel for the content, since NSFWBomb is focused on the Internet celebrities and attention whores of networks like OnlyFans, Patreon, and Instagram. They have categories for Celebs and Pornstars, but there's kind of a lot of overlap these days, isn't there? Likewise with categories like Teen, Big Tits, Asian and Blonde.
I'm a big fan of this new wave of DIY smut. One of the only downsides to the genre is that it's mostly solo shots, since it's mostly girls taking sexy selfies in the mirror or flashing their titties at the webcam. There are sexy couples going at it, but most of the front page consists of beautiful women all by their lonesome. There are blondes in bikinis, brunettes in the buff, and one cutie wearing '80s-style leggings and groping her tits. I see topless Latinas, twat-touching teens and a girl riding a dildo, not to mention a closeup of a really clean butthole.
NSFWBomb.com has a super-streamlined design that you may love or you may hate, and your appreciation for it may well depend on how you're viewing the site in the first place. (Spoiler alert: it's way better on mobile.) The first stripped-down element I noticed was the lack of videos. They call themselves the #1 Free Adult Picture Sharing Site and they're sticking to that. I kept clicking the girls with fingers in their pussies, thinking I'd get to watch and listen, but nope. This is an images-only affair.