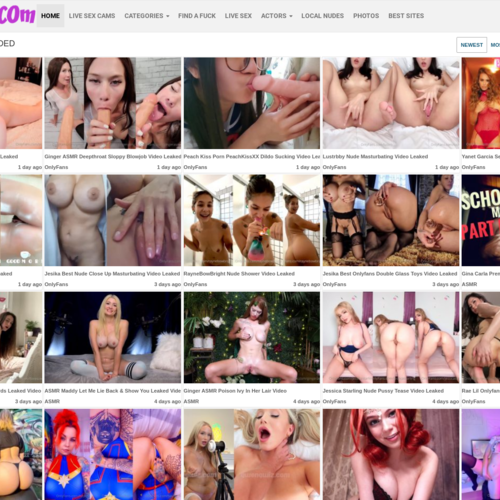 DirtyShip
The content can be sorted by newest, most viewed, rating, and discussed. Clicking on a video initially opens up an ad, but if you are a persistent motherfucker, you will still be able to play the video with minimal fuss. The clips may have been sourced from different places, but at least the video player is embedded and plays the videos without much buffering. You can like or dislike a video while the video player allows you to go full screen and even has a 10–sec rewind feature in case you miss something. Each vid is accompanied by a list of tags and a lineup of related videos. There is a ton of adult content that you can jerk your meat to here, which is the whole point. Free advice; if you are going to download anything, you better have the appropriate scanners. Malware and viruses fucking suck, you know.
If you think that because your favorite celebrity crush is lesser known, you won't find them here, you will be pleasantly surprised by the mixture of A-list celebrities and lesser stars. Fuck it; there is every chance you will leave here with a new celebrity love. Of course, some of the naughty clips here feature movie stars and musicians, and you might be tempted to go see their movies after seeing them naked. Some of the lesser known names you may be jerking off to include Abella Danger, Adriana Lima, Alessia Veneziano, Alissa violet and many others. You can't afford to let this chance slip away.
ASMR is an acronym for Autonomous Sensory Meridian Response. It is experienced through a relaxing tingling all over your body, which could be from sheer relaxation and pleasurable sensations. In layman's terms, ASMR porn combines the sound effects of ASMR with some sort of sexual activity including but not limited to nudity, moaning, kissing, sex toy vibration, giving blowjob to a dildo and such.
Dirtyship.com has a category called ASMR which includes wet licking sounds, sensual finger sucking, wet pussy/orgasm sounds, wet kisses and moaning, bra fitting and lingerie try on videos and more.