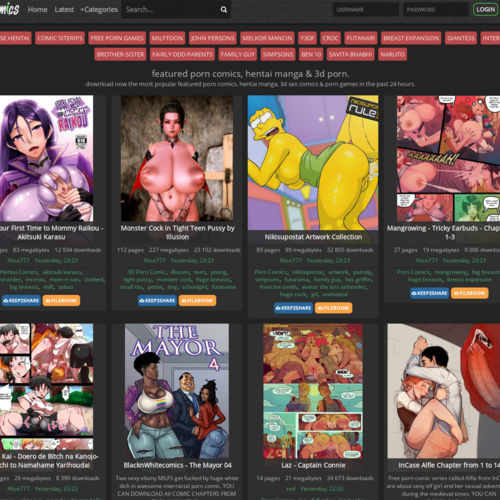 SVSComics
SVSComics is driven by its users. All the comics are from users who upload their content, and you can upload your own comics too. That's right, you too can be a freak getting off at the fact that thousands of people are jerking off to your artwork.
In addition to American-style comics, the site also features hentai, porn games, and siterips. In addition to original works, it also has a ton of parodies on famous works like Family Guy, Simpsons, Fairly Odd Parents (the fuck?), and Scooby motherfucking Doo. That's right motherfucker, you can cum to Scooby Doo fucking that four-eyed bitch in the Mystery Machine.
It also has all types of anime shit, video game characters, and much more. The site features different porn artists so you can easily find your favorites.
As soon as you get to the website, you'll get dickslapped by a bunch of comic covers that shows you exactly what the fuck this site is about. Hentai, 3d porn and cartoon comic covers are laid out like an art gallery for you to look through. At the top of the site are the most famous categories, so you can also just click those to get to the specific shit you want like "Milftoon" or "Hentai comics".
At the very top of the site is the menu bar. It's a straightforward site with minimal bullshit, so luckily you don't run into a lot of ads or weird features (for now). Finally, all the content is user-generated, so you can become a member to share your own shitty drawings, bookmark your favorites, and more.