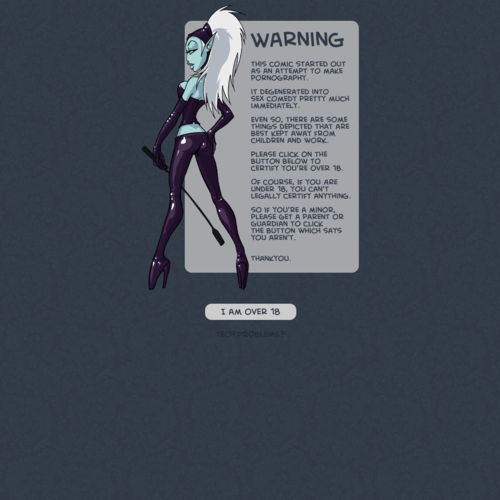 Oglaf
Before they let you in over at Oglaf, you have to pass through an age confirmation screen. That's not too unusual on a porn site. They usually serve less as a real warning than an enticement. It's not like anyone's actually checking ID. There's naughty stuff in here (wink) and you definitely shouldn't look (wink).
Even from the warning page, it's clear Oglaf ain't a typical porn site. For one thing, the bad bitch with the riding crop and shiny, skin-tight outfit is a drawing of a blue-skinned elf, not a photo of a blonde pornstar. The warning itself is a lot more self-aware than they usually are.
"Of course, if you are under 18, you can't legally certify anything. So if you're a minor, please get a parent or guardian to click the button which says you aren't."
Apparently, Oglaf was originally an attempt to make pornography, but it degenerated into sex comedy pretty much immediately. Well, hey, I'm a degenerate who likes sex and comedy. Let me just click this I AM OVER 18 button and see what happens.