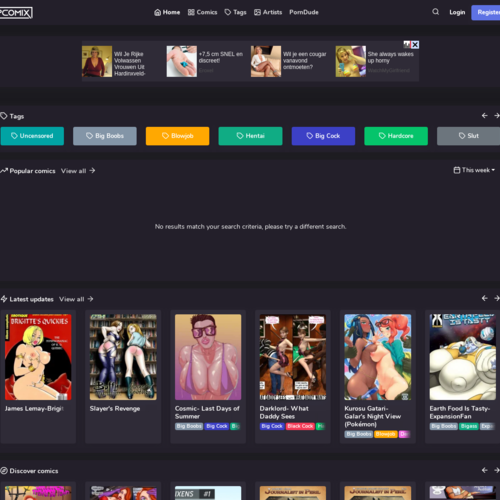 PCOMIX
PComix.net is a newer porn comic site, hitting the web at the dawn of 2020. It can be hard for fresh adult sites to get traffic since they typically don't start with much content. PComix bucks the trend by coming out strong and going hard as fuck straight from the jump: as of this review, the site already has almost 20,000 free comics for adults only.
One thing I've always loved about comic books is that they don't follow the same rules as real life. Motherfuckers can fly around, punch through walls, and melt steel beams with their goddamn eyeballs. The characters include all kinds of otherworldly freaks like mutants, aliens, dog people, and dragons. Why constrain yourself to reality?
Laws of physics are bullshit in comic books, as evidenced by the anti-gravity tits of all the babes from X-Men and the Teen Titans. Laws of nature are bullshit, too, as evidenced by chicks like Squirrel Girl, who's half rodent but still looks fuckable. Incidentally, these broads look a hell of a lot sexier when they're getting naked and getting fucked in the artfully rendered stories on this site. You may never fap to the official versions again.
In case Squirrel Girl ain't breaking those laws of nature hard enough for you, there's plenty of yiffing going on in other PComix.net books. They've got a whole Furry section that stretches almost 70 pages so far. Crank it to a cheetah-girl stripper, indulge in a My Little Pony foot fetish (hoof fetish?) tale, or see a woman slowly transform into a 6-titted cow babe, suck dick and milk herself.
I'm no lawyer, but it looks like the mom in XMass – MILFtoon might be breaking a few different kinds of laws as well. I found the comic on the front page of PComix and popped wood just looking at the cover. I had to take a break from writing this review because it turned out to be exactly what I was hoping for. There's another one with a Rick and Morty theme, but the art style is way more fappable than the Simpsons-wannabe source material. (And here come the shithead fan emails! Go bother McDonald's about their sauce instead.)