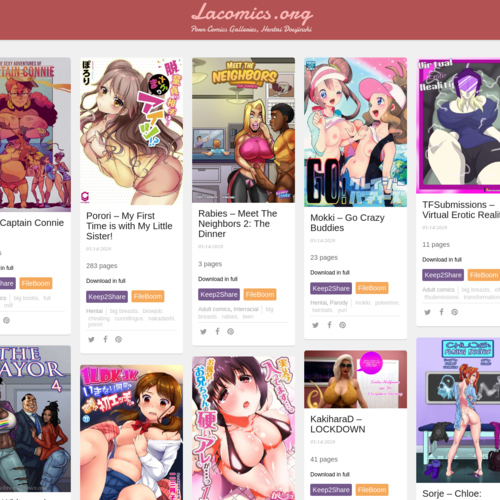 LaComics
La Comics! Okay, so you're here because you're looking for a new place to get your fix when it comes to watching some cartoon characters do all the nasty that they're not allowed to do on tv. I get that, it's a good fucking reason to be here and it's why I'm here too. LaComics.org is definitely somewhere you can go to have a good hard look at what all the fuss is about when it comes to 2 drawn characters getting down and dirty.
It's simple, and that's good. It's got a simple design to it making it clear where everything is, not that there's a lot of things to keep track of but that's the point. They have the posts listed on the page in a way that doesn't really look too organized but who the fuck really needs it to be that organized? You see one you like, you click on it and that's all there really needs to be to it.
Not only that there's a fucking lot of posts, but each page also has about 20 different posts each with a different comic thought sometimes there are a couple of them that area at least related to each other. You know, drawn by the same artist or some shit. But for the most part, each post is individual and the whole fucking thing is updated at least a couple of times a week.