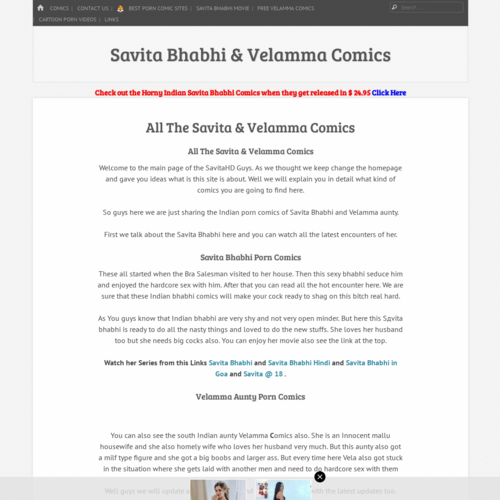 SavitaHD
The first time you visit the site, you might be a bit confused because their homepage looks like shit. I mean, they just have a wall of text in the middle and everything else looks fake. Now, the biggest issue I had when I visited their site was the ads and the pop-ups… you can find them anywhere, and for me, the ads can really kill my boner.
Their homepage is literally there just to explain who these two wonderful bitches are, and in case you still have not figured it out yet, this is a video site dedicated to two beautiful Indian chicks; Savita and Velamma. From what I have read, Savita is a beautiful woman who might be married but she prefers hardcore sex with random strangers who are packing.
On the other hand, you have Velamma who is a bit older than Savita, and she is also on the chubbier side. They call her a milf, and although she is also married, this hottie will never pass the opportunity to get fucked by horny dudes. Now, what makes this site so interesting is the fact that bhabhi Indian chicks tend to be very shy and closed, but these two Indian beauties are the opposite.