EggPornComics review
back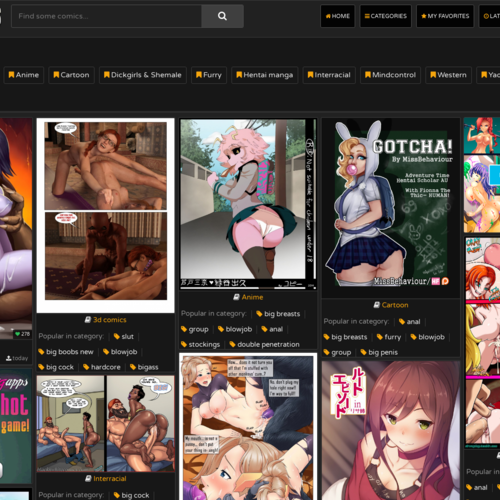 EggPornComics
Is there a theme to the porn comics at EggPornComics? Well, it seems to be a smorgasbord of pervert fun, with some of their most popular categories broken down by thumbnail right on the landing page. They've got 3D comics made by tech-savvy computer geeks, and anime porn drawn by Japan-obsessed weeaboos. There's a big selection of Dickgirl and Shemale comics created by totally straight fans of futanari, as well as a deep furry section for the well-adjusted animal lovers out there.
Interracial, Yuri/Lesbian and MILF are major categories around here, but really, where are they not popular in the world of pornography? I've got to tell you, when I visit a hentai site, I'm usually seeking out the most twisted, kinky, perverse shit I can find. The same rules don't apply as in the world of video porn, so why not go all out? Dig into the Mindcontrol area to find hypnotized comic sluts and brainwashed manga whores. They've even got stuff for the fags over in the Yaoi/Gay area.
Since they seem to let it all hang out at EggPornComics.com, I was a little surprised they didn't have a big Incest category taking center stage. Rest assured, my mother-loving friends, that there's plenty of that taboo business in the collection. I noticed it first under MILF, but tags like Incest and Mom-Son quickly led me to their full stashes of familial action.
Like other porn comic sites, Egg Porn Comics has a fucking ton of hentai and anime-influenced porn art. So many of these bitches have bright, crazy hair and huge eyes to match their massive manga jugs. There's a nice mix of content, though, with plenty of 3D smut and a lot of Western-style comics to go with the hentai. You can view the collection by style if that's easier for you than cranking by category.