Spanking Tube review
back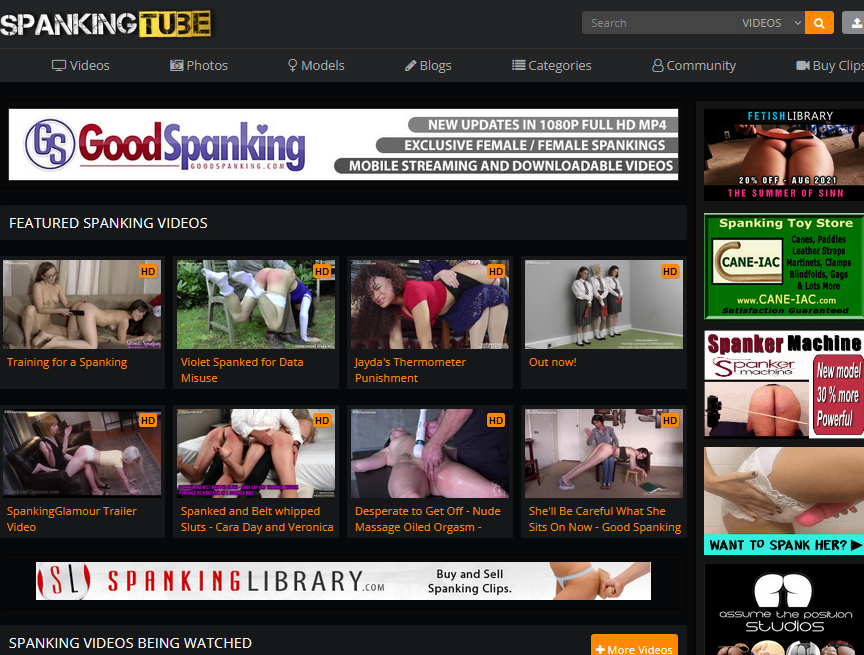 Spanking Tube
The worst part about being into a fetish like spanking is that it's usually a pain in the ass to find. And not the good kind! Usually, you have to find some weird fetish site that makes you pay for a membership to even view their content. Today, you're in luck. I did some looking around and found a gem of a website called Spankingtube.com. Spanking Tube has been pumping out free, high-quality spanking vids since as early as 2009. And they have gained quite a following for such a niche fetish site at over 45 thousand unique visitors every day. If you lined that many people up to get spanked that line would stretch over 10 miles!
The first thing you see when you head over to the site is actually a warning to confirm your age. But we're all of age here, so click and enter and you'll get taken to their homepage. Here you'll see a list of their featured videos, stuff being watched now, and a section for new videos. The overall layout and site design are well done. Nice and easy on the eyes black background with yellow-orange text most places. Everything pops and it's pretty simple to navigate.
While the thumbnails aren't animated, they aren't quite static either. If you hover your cursor over the image you get a short couple picture slideshow of the video. Not as good as a gif, but definitely better than a still image. For some reason, the featured vids don't have a video length in the bottom right corner, but every other section and page does so it's not really a big deal.
Before you click through to the video the preview lets you know how many views it has, if it's in HD or not, and what its rating is from 1-5. When you do click through you get even more info about the vid and the user who uploaded it. This site is pretty community-focused, so it tells you how many vids, pics, blog posts, the user has posted as well as telling you how many times this specific video has been favorited.
But let's talk about the content quality. It's okay. The HD vids are in 720p, which isn't as high quality as I would have liked. When I see HD I think 1080p. I'd love to see some higher definition vids here. I want to see every mark, tear, and detail! But it's free and there's a lot of content, so I can't complain too much.