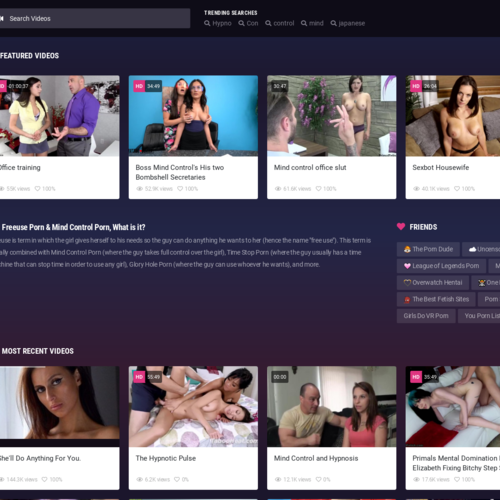 FreeUsePorn
FreeUsePorn.com is yet another free sex tube offering up a nearly endless supply of lesbian tribbing, teen blowjobs and interracial butthole fingering. The domain was only registered a few years ago, making them something of a newbie in the world of freebie smut. That ain't always a bad thing, as evidenced by their traffic numbers, which total nearly a million visits a month.
FreeUsePorn has the typical free tube layout you've seen and spanked it to a million times before. The wall of explicit thumbnails dominates here as it does elsewhere, with a page-long grid of Asians getting their titties sucked and bald guys getting their knobs slobbed.
A sliding row of Featured Videos at the top breaks up the wall a bit. There's a girl getting fingered with the title Demon Contract, and I wonder if maybe she signed a contract with Jeffrey Epstein. A couple of titles in the row suggest a hypnosis and mind-control theme to the blowjobs within.
I've unfortunately already got spam on the front page, even with my adblocker running. A petite brunette in lingerie and a cat mask dances around before being replaced by a schoolgirl in a skirt short enough to flash her goodies. The video broads swap in and out, teasing me in a way that I can't ignore because they're literally on top of those thumbnails I'm trying to look at.
The full-motion video sluts dance all over those thumbnails of pornstars like Veruca James, Bella Rolland, and Melissa Moore. The gorgeous spam girls tumble over kinky JAV (Japanese Adult Video) scenes of airplane incest and superhero parodies where Captain America is a girl who sucks a mean dick.
I honestly don't know whether to be annoyed by the spam or beat off to it. I'm trying to review this site, but I'm a little hypnotized by Harley Quinn gyrating with her clothes off and grinding her twat against a baseball bat. I'm tempted to click the spam, but that's what they want, isn't it? No, damn it, I came here for the free stuff!
Speaking of hypnosis, I see more mind control scenes in the Most Recent Videos. There are all kinds of smut on the front page, but it's rare to see so many hypnosis flicks at once on a free tube. It could be a theme, or maybe it's just what FreeUsePorn users are into at the moment. I do see scenes in the niche added recently by a few different uploaders, not just one dude with a boner for hypnotist scenarios.
I recognized Alex Coal as one of the schoolgirls in the thumbnail for a movie called Detention Mind Control. I clicked it, and the dancing girls in the corner followed me to the video page. At least this time, I could see the X to close the spam, but goddamn, they're persistent! An animated sidebar ad with a stripping schoolgirl decorates the page in no fewer than 3 places, but at least it's less intrusive.