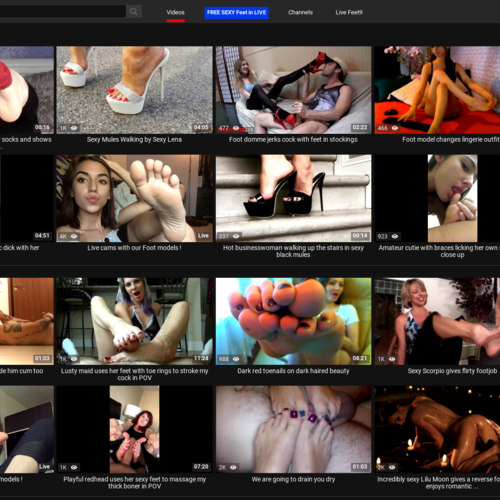 Feet9
This might be the first time that I was not really annoyed by the white background of the website since I do love to browse for naughty shit at night. That is probably because there are so many great videos here, that even me, who is not really into the whole fetish for feet crap, was still able to enjoy plenty of these clips. It must be because the hotties here were just so darn sexy.
Obviously, you will get to list many different clips at the beginning; I've actually repeated that sentence so many times that I sound like a broken record. That is usually how most websites work, and while you browse, I am sure that you will notice that while this site looks like it has a lot to offer, it is quite empty.
Now, when I say that it is empty, I mean it from an aesthetical point of view, since do not get me wrong, there are plenty of great feet fetish related videos, otherwise, I would not be reviewing any of this shit… duh! As for the content of the site, I think we all know what kind of clips this place has to offer.
Like I already mentioned, most of the videos I decided to watch had a beautiful chick presented, which is why I really enjoyed my time here. You can watch all of the videos for free, there is no need to create an account, not to mention that there is not really any way to register even if you wanted to. Sure, you can leave comments and that shit, but you can only leave them as a guest.
Honestly, I do not really mind when sites do not offer the option to create an account, because unless I am not able to watch the videos or I do not get something more than the usual user-privileges, I do not see a fucking point of registering at all. We are all here to watch the naughty clips, and if you can do that with no extra effort, sign me up.
Simply saying that these are all foot fetish videos, should be enough in my opinion, but if you need some description on the shit you can see here, I will gladly share my info. I ran into loads of ladies who were skilled at cock rubbing and pleasing by only using their feet, but there were also naughty cases where the beauty would make her man or even girlfriend submit and do loads of kinky shit, obviously including a dose of feet fetish.