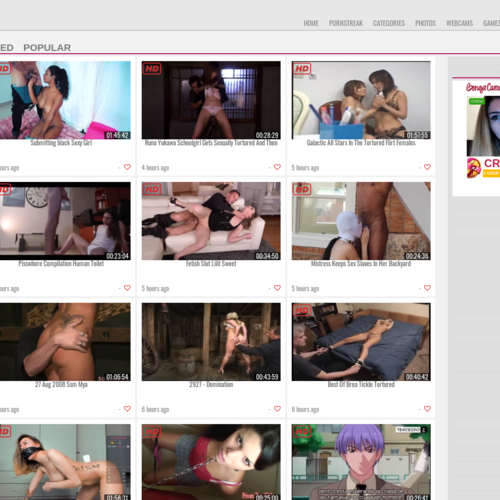 BDSMstreak
BDSM Streak has got the standard look we've all come to expect with any free porn tube. The wall of thumbnails is a little different than most, though. Instead of facials, anal sex, and fisting, this site goes for the hard stuff. On the front page now, I see a man tied to a rack getting teased, a guy slamming his bound wife from behind, and a blindfolded woman held captive in a bathroom and used like a dirty little whore.
Hovering over a thumbnail gets you a moving preview of the action inside. I put the mouse over what I thought was a pretty face getting jizzed on. The image is a little more clear as a video. It turns out that isn't semen, it's piss. What a nasty girl. Yeah, she certainly deserves those shackles.
A few dozen clips are on the front page, and all of them have been uploaded within the last 24 hours. That's a damn fine rate of growth for any tube site. Fetish clips tend to be shorter than movies with fucking, and that's the case here. It's hard to hammer nails through your tits for more than a few minutes at a time. Still, the overall volume of new BDSM porn is really respectable.
Training Bitches on Video
I clicked on a broad with some kind of apparatus strapped to her face, holding her mouth open wide. It didn't just open her mouth, though. No, it opened up a world of possibilities. The fact that the bitch was in a tiled room or shower stall meant you wouldn't even have to worry about the mess.
There's a block of text highlighted in red at the top. I thought at first it was telling me to turn my ad-blocker off, but it actually says they fixed an issue with the ad-blocker and that you should be able to watch now even if you have one. Points to BDSMstreak.com for that. It's user-friendly at the expensive of ad revenue for them.
The video player is extremely basic but does the trick. I clicked play and didn't get much buffering before I watched the girl wince, slapped in the face by the cameraman. I think he was speaking Dutch, but I knew he was saying some degrading shit to her. He urinated in her mouth and on her face until she gagged, sucked the pee from her mouth with an enema bulb, and then squirted it up her butthole.
It's kinky as hell, way freakier than anything you'd find on the typical porn tubes. Halfway through the clip, the slut has tears, pee, and spit dripping down her pretty face, and is trying not to throw up as the dude shoves his fingers into her throat.
I was curious if the uploader was the same guy smacking the shit out of the girl and making her suck on his balls. The Uploaded By tag just said "anonymous", and I couldn't click it to find a profile.
I also noticed there were no category tags anywhere on the video. I'd suspect the uploader just did a half-ass job and didn't fill them in, but I didn't even see a field for them. It made me wonder if the videos in the Suggestions below were even related. They look like they are, but then again, bitches getting tied up and throat-fucked is kind of the whole theme of the site.