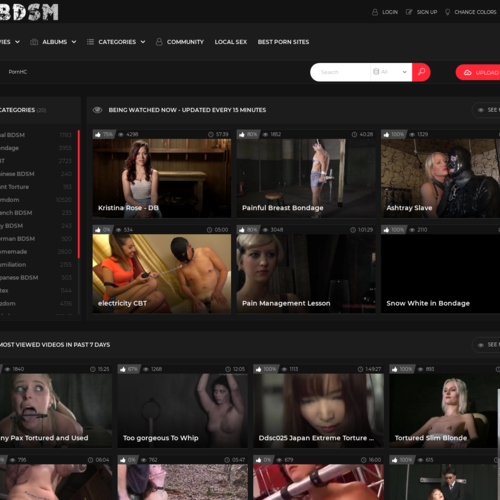 HcBDSM
BDSM stands for Bondage and Discipline - Domination and Submission - Sadism and Masochism. This porn genre is without doubt for the sick fucks who like being sexually dominated (or vice versa), those who prefer to incorporate weird paraphernalia like ropes, handcuffs, gag balls, cages, blindfolds, and such in their sexcapades, those turned on by having their partner inflict pain or humiliation to them (think about having your fuck mate spank your ass until it bleeds or having them stick needles in your ball sacks), and such weird shit. If that's too disturbing for you, I suggest you stop reading this review immediately and go sing praises to the lord or whatever.
However, if this kind of weird shit turns you on, welcome to the world of Hcbdsm.com where morality is just another word in the dictionary. Fuck morality anyway, right? Expect plenty of extreme tit torture, brutal outdoor whippings, pussy punishment, cunt torture, humiliation and much more. Maybe you prefer strapon anal pegging (dubbed painal because it fucking hurts) or a dose of gay BDSM? Don't fret. Hcbdsm.com is fighting in your fucking corner.


The first thing you notice the moment you step into this BDSM den is the dark design which looks pretty good, to be honest. I prefer a site with a design that allows me to peacefully go about my nightly browsing routine without worrying about losing my eyesight. Who has time to watch smut during the day anyway? Unless you are unemployed or too young in which case you shouldn't be reading this. That said, the site allows you to change the background color from black to white if you so wish.